IAR 04 - 7"
Kitty & The Manges "Joey's Song"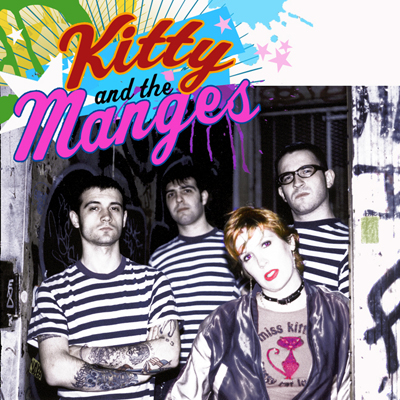 Release Date: April 2006

Test Pressing: 3 black vinyl
First Pressing: 600 purple vinyl
Second Pressing: 400 mixed color vinyl (200 light brown, 125 purple, 50 black, 25 dark purple)

Cover Art: Mass Mosrite

01 - Joey's Song
02 - Elvis Has Left The Building
03 - The Goonies R Good Enough
The Manges are more than a band, they're a punk rock institution! They've been keeping the blitzkrieg beat alive for more than 12 years now. For this release the striped army have recruited NYC's Kitty Kowalski for lead vocal duties - she's got voice and a style of singing that are like an echo of Punk Rock's past. Put the two together and you've got a combo that can't be beat! The three songs on this release feature what is probably the best tribute song to Joey Ramone ever penned ("Joey's Song), a duet with Andrea and Kitty ("Elvis Has Left The Building"), and a cover song that's good enough for you (The Goonies R Good Enough")! It's Alive counts itself very lucky to have become part of the Manges extensive 7" catalog.