IAR 05 - 7"
The Varsity Weirdos "Fly Me Up To The Moon"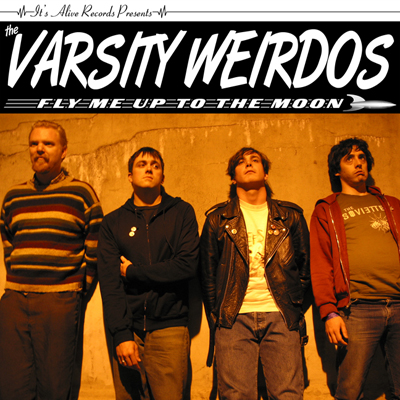 Release Date: June 2006

Test Pressing: 5 black vinyl
First Pressing: 500 clear vinyl

Cover Art: Adam Alive

01 - Codependency
02 - The Way I Know
03 - Brain Sick
04 - Never Liked You Anyway
05 - Fly Me Up To The Moon
This is the debut release from these Canadian weirdos. The Varsity Weirdos are quintessential pop punk loaded with all the right stuff: big guitars, a steady beat, backups and vocal harmonies galore, a smattering of organ riffs, a little bit of sci-fi, a little bit of love and a whole lot of fun! There's something about these songs that make them sound as if they were from that classic era of 1970's punk - when pop punk defined the genre with hooks, not mohawks and makeup. They've got the formula for pop songs down cold, but add enough of their own individuality to really spice up the mix and set them apart from all the Ramones-clones. If you're not singing along, you must not be listening!