IAR 07 - 7"
Zatopeks "Smile Or Move"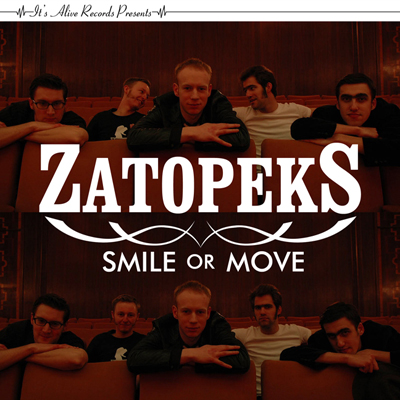 Release Date: June 2006

Test Pressing: 5 orange vinyl
First Pressing: 500 gold vinyl

Cover Art: Adam Alive

01 - I Dream I'm Home
02 - Turn To Gold Blues
03 - Even Zatopeks Cry
04 - Another Night On The Divide
The Zatopeks are as unique and individually defined as any band could be. Their sound can be described as a conglomeration of pop, punk, rock'n'roll, folk and doo-wop, but even that wouldn't do its eccentricity justice. Their songs are stories of life when looked at just a little bit closer, with a good sense of wonder and appreciation for every detail, no matter how small... But rather than trying to classify and categorized the music of the Z-boys, you'd be much better served by simply dropping that needle on the record and putting your dancing shoes on. Because nobody brings a party like the Zatopeks do! Easily the best band to come out of the UK this decade.