IAR 101 - CD/LP
Up For Nothing "Swindled"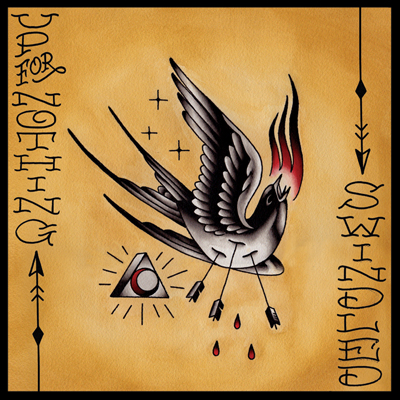 Release Date: February 2016

Test Pressing: 55 black vinyl sold as tour edition
First Pressing: 100 red vinyl, 100 gold vinyl, 300 black vinyl, 300 ecopack CDs

Cover Art: Bryan Kienlen (www.instagram.com/bryan_kienlen)

01 - Dignity
02 - Memorial Day
03 - Tiny Violins
04 - Don't Wanna Know
05 - Swindled
06 - The Faker
07 - Get Right
08 - The Suspense Is Killing Me (I Hope It'll Last)
09 - Born At The End Of Summer
10 - 80 West
11 - Sink
12 - Burned
13 - Grody
14 - I'm Gone
Up For Nothing doesn't just wear its heart on its sleeve, it's tattooed right on there! These guys are keeping that 90s east coast style of punk rock born out of passion and positivity alive and well on Swindled, their fourth full length album and first on It's Alive Records. All the hallmarks are provided in full - anthemic sing-a-long choruses, big guitars, standout bass lines, and driving drum beats. The fourteen tracks that make up Swindled are filled with life's highs and lows, but through it all there exists a drive to stay positive and keep pushing forward. Up For Nothing has been pushing forward for fourteen years now. Their dedication to punk rock music and the punk rock community grows with each passing day and each new song. It's important to take notice and appreciate the bands like this that continue to create the soundtrack to our scene that we all love so much. I am so happy to have had the opportunity to put records out with these guys. And I hope there are many more to come!