IAR 102 - LP
Caffiends "No Gods No Decaf"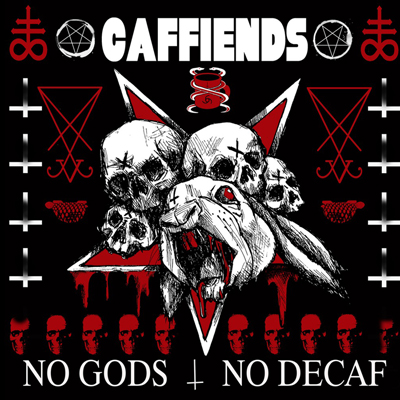 Release Date: February 2016

Test Pressing: 5 black vinyl
First Pressing: 300 black vinyl, 100 white vinyl, 100 red vinyl

Cover Art: Heidi The Naysayer (www.instagram.com/heidithenaysayer)

01 - Anthem For A Shittier Tomorrow
02 - Succubus
03 - SSDDecade
04 - I Was A Teenage Bagboy
05 - Hello Reality
06 - PC Master Race
07 - Pullout Generation
08 - Dillinger Four Is A Gateway Drug
09 - Nacho Bender
10 - Derella Gorilla
11 - A Light At The End Of The Funnel
12 - Hangover Farts
13 - I Wanna Get A Mohawk
14 - No Gods No Decaf
Caffiends have been making a name for themselves these past few years releasing records on their drummers awesome record label (Swamp Cabbage Records), helping build up their local scene in central Florida, and playing all the shows and fests they can including every punk's favorite Gainesville Fest. No Gods No Decaf is Caffiends' second length album and debut release on It's Alive Records. Stylistically it ranges all over the place from Descendents to Dillinger Four and Ramones to I don't fucking even fucking know what. It's got a totally 90s feel to it right down to between song sound clips and saxophone solos (No, really!). Caffiends are a true DIY band doing things the old way and it comes across in their music - it sounds like they just wanna have fun and write dumb, funny songs about stupid bullshit that sound rad. And sometimes that's all I want from music.