IAR 104 - LP
Various Artists "Punk Rock Raduno Vol. 1"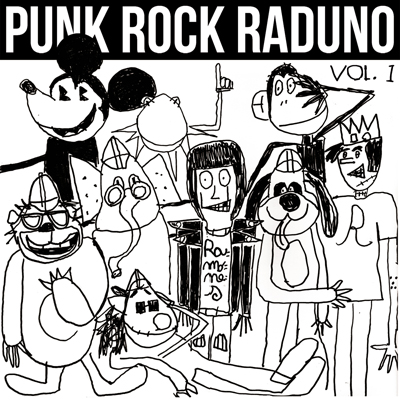 Release Date: December 2016

Test Pressing: none
First Pressing: 300 black vinyl

Cover Art: Manuel Cossu

01 - Born In A Bad Mood (Jimmy Vapid)
02 - One And A Million Miles (DeeCracks)
03 - Get You Off Of My Mind (Baby Shakes)
04 - Run Little Rabbit Run (The Ratcliffs)
05 - Pay For Me (Midrake)
06 - Locket Love (Tough)
07 - Bad Weather (Slander)
08 - The Kid Is Hot Tonight (Chixdiggit!)
09 - I Donít Wanna Dance (Sugus)
10 - The Party Starts Now (The Leeches)
11 - Homesick (Volkov)
12 - Minerva (Mega)
13 - You Donít Wanna Be Like Me (The Manges w/ Joe Queer)
14 - Canít Surf (Lucy And The Rats)
15 - Black Magic (The Mugwumps)
16 - I Donít Pretend (Teenage Bubblegums)
17 - We Wanna Cruise Around With You (Zatopeks)
18 - The Burden (Council Of Rats)

Punk Rock Raduno was a 4 day festival that took place in Bergamo, Italy during the summer of 2016. The festival wasn't about a single brand, nor was it built around a single band. The idea behind the festival was to bring together the people from diverse bands, record labels, and artists that are active in the underground scene of punk rock for a gathering ("raduno"). 18 bands from all across Europe and North America took part in the festival and contributed one song each to a 12" vinyl LP compilation to commemorate the event. Striped Music (Italy), Surfin' Ki (Italy), Monster Zero (Austria), and It's Alive (USA) co-released the LP. Most copies were distribute among festival attendees, but a handful are being made available to those that couldn't attend. All tracks included are rare and most are previously unreleased. It's Alive Records has always had strong ties to the pop punk underground scene of Europe since our beginning. We were really happy to be able to be included in this project and continue to nourish the friendships we've made with so many wonderful people across the sea in the old world.