IAR 105 - 7"
The Capitalist Kids / Hospital Job "Split"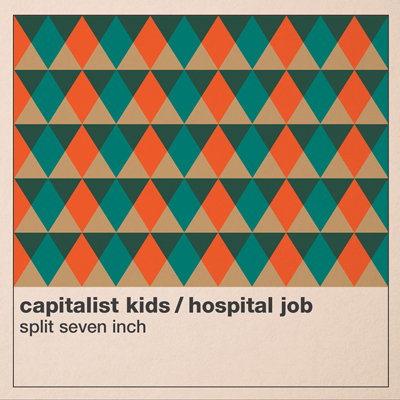 Release Date: December 2016

Test Pressing: 10 black vinyl
First Pressing: 300 black, 100 beige, 100 purple

Cover Art: Jeff Leppard

01 - Second To Morrissey (The Capitalist Kids)
02 - Head Banging (The Capitalist Kids)
03 - Toynbee Idea (The Capitalist Kids)
04 - Throw It In The Pile (Hospital Job)
05 - Vampires (Hospital Job)
Pop punk has been getting a bad rap for decades now. The most often heard complaint is that it all sounds the same. This split stands as a shining example proving that complaint to be total bullshit. The Capitalist Kids play it totally catchy, bouncy, and entirely up-beat, whereas Hospital Job plays it down in the deeper, darker, more dissonant end of the spectrum. While neither band is soon to be confused with one another, they both appeal to that deep-seeded need for melodic rhythm that us pop punk diehards require of our lives' soundtracks. But even within its confines, pop punk needs to have a level of diversity to keep it interesting, and this split provides that, too. The Capitalist Kids are a rare breed of band that jumps between socio-political and light-heartedly personal themes from song to song. On this split they bring a little more of the latter with happy-sad jams about life troubles, relationship troubles, and then a Google worthy bit on Toynbee ideas that hopefully provides a little more insight into the weird and diverse world we all live in. Hospital Job continue to hold it down with a power-driving jam showcasing a different take on a similar theme of personal relationships gone bad. They close it out with a Mountain Goats cover that most pop punk fans probably wouldn't recognize as a cover from within the confines of the bubblegum bubble we're so happy to live within. But that's another thing that I find so cool about these bands - they both provide impetus to dig a little deeper into the world outside of what we already know and are familiar with to discover something new.