IAR 110 - LP/CD
City Mouse "Get Right"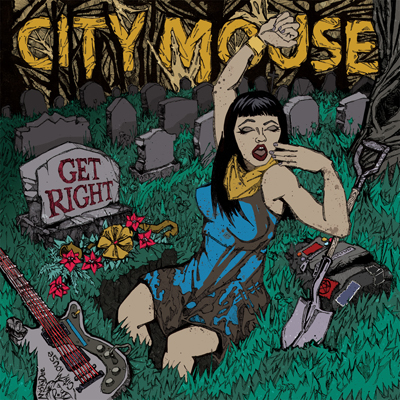 Release Date: October 2017

Test Pressing: none
First Pressing: 500 black/blue flipside vinyl, 300 digipack CDs

Cover Art: Raeghan The Savage (www.instagram.com/savageraygun)

01 - A New Dawn
02 - Back Issues
03 - Guardians
04 - Exorcise
05 - Journal
06 - Mariposa Venenosa
07 - Waiting
08 - Olympic
09 - Terminal Disease
10 - Bad Weather
11 - Don't Stop
12 - Independence Day
City Mouse was formed when Miski Dee Rodriguez walked away from her hustle and bustle corporate world in Los Angeles, CA and sold her soul to rock ní roll. Touring relentlessly for the past 10 years, the band has played their hearts out across the U.S., Canada and Mexico. Though City Mouse has released several singles over the past decade, Get Right stands as the band's first full-length album. The new album, produced by Mass Giorgini (Screeching Weasel, Alkaline Trio, Rise Against), delivers on an emotional level that pushes and pulls at your heart with every note and word. Whether empowering or heartbreaking, each song is crafted and played with an honesty and passion that commands attention and draws you in deeply.