IAR 111 - LP
Robot Bachelor "The Third House Boat Album"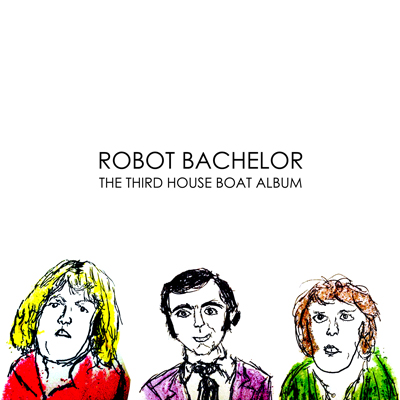 Release Date: March 2018

Test Pressing: 4 black vinyl
First Pressing: 275 mixed color vinyl (200 sea green, 50 slate grey, 25 barfy brown)

Cover Art: Andy Conway (artofandyconway.tumblr.com)

01 - Glass Apartments
02 - You're Thinking Nothing
03 - Today The World, Tomorrow Your Love
04 - Oh Katie
05 - Mixtape
06 - I'd Rather Be Washing A Dog
07 - Interviewing Voices In My Head
08 - The Lodge
09 - Night Bird
10 - When You Give Up
11 - East Of West #21
12 - Up All Night
Robot Bachelor is the latest in a series of unfortunately named pop punk bands fronted by Grath Madden (House Boat, The Steinways, at least three other bands youíve never heard of). This time Luke McNeill (The Copyrights, Hospital Job, Starter Jackets) plays drums, Noelle Stolp (Rational Anthem) plays bass, and everybody sings. But donít worry, it still sounds like all the other ones.

The Third House Boat Album is a pop punk record of appropriate length featuring an appropriate number of songs. It was recorded over an appropriate number of days in August, 2016 by Luke McNeill in his luxurious basement in scenic Springfield, IL. Additional vocals were recorded a few weeks later in Jon Vafiadisí plush Forest Hills, NY apartment by, appropriately, Jon Vafiadis. Remaining bits and pieces were recorded by Grath Madden in his dilapidated hobo den in Astoria, NY. The record was mixed and mastered by Luke, although I wasnít there, so I have no way of proving that.