IAR 113 - LP
Real Sickies "Get Well Soon"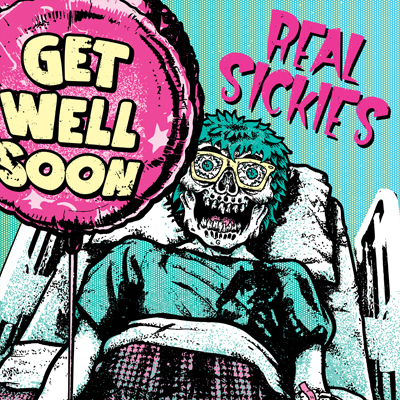 Release Date: June 2018

Test Pressing: none
First Pressing: 200 green vinyl, 200 blue vinyl, 100 yellow vinyl, 100 pink vinyl, 100 black vinyl

Cover Art: Myke Peters and O'Foley

01 - Get Well Soon
02 - C'mon Baby
03 - Go Away
04 - Cool Club
05 - Very Large Failure
06 - I Don't Wanna Be Here
07 - Time Out
08 - Living So Sadly
09 - Everywhere You Go
10 - Take A Bite
11 - Some Are Mimes
12 - Summer Fun
13 - Run Away With You
Get Well Soon is the first full-length album from Alberta Canada's Real Sickies. For those new to the band, imagine modern day power pop punk rock n roll with a foundation set to the classics of Teenage Head and Ramones and nods of respect to 90s punkers The Briefs and The Smugglers. On Get Well Soon, Real Sickies bring it on every jam with high energy vocals, catchy hooks, infectious melodies, and plenty of gang vocals and handclaps in just the right places... and don't forget about the killer saxaphone, kazoo, piano and organ action throughout! Substance always bests style, but when the two come together as slick as they do on Get Well Soon, you know you're in for real sick treat.