IAR 15 - 10"
The Children's Crusade "Get Awesome"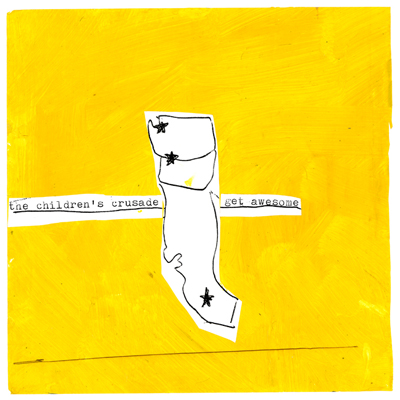 Release Date: June 2007

Test Pressing: 5 black vinyl
First Pressing: 500 black vinyl

Cover Art: Max Nordlie

01 - The Children's Crusade
02 - World Expo, Chicago
03 - Saint Valentine's Day Massacre
04 - A Meeting In The Board Room At The Law Offices Of Kafka And McBeal
05 - Don't Bullshit A Bullshitter
06 - A Song For The Children Of The Serpent
07 - The Sexual Politics Of Karate
08 - Pectin Patella
The Children's Crusade recordings that make up Get Awesome are what originally inspired the start of It's Alive Records. This record has it all - clever lyrics, dual vocalists trading off snotty and smooth vocals, excellent percussions, simplistic guitar riffing aplenty, steady driving rhythms, and a variety of song subjects and musical styles. The best pop punk music is that which hooks you from the get go with its catchiness but keeps you coming back around again and again by offering something more with each listen. These songs have a lot more to offer than it might seem with the first listen - each song is its own little masterpiece, crafted rather than simply assembled. Get Awesome is a perfect example of minimalist music styling with maximum results.