IAR 16 - 7"
Fear Of Lipstick "Indie Band"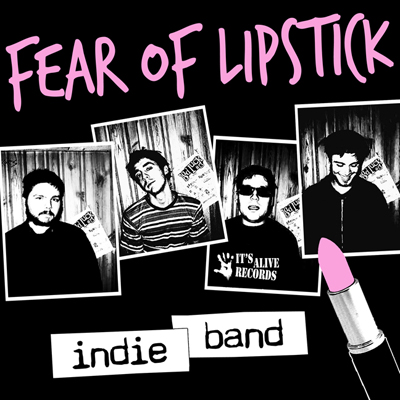 Release Date: July 2007

Test Pressing: 5 black vinyl
First Pressing: 500 black vinyl

Cover Art: Adam Alive

01 - Indie Band
02 - Bad Motel
03 - Cherry Bomb
04 - What You Do
Fear Of Lipstick bear the influence of many styles of music. They've got a mid west American punk sound at times, a Canadian power pop sound at others, a 77 cockney punk style (minus the accent) here and there, but always delivered with a catchiness that can't be denied. The four tracks of this 7" make up the debut release from Fear Of Lipstick. It's got all the energy and enthusiasm a debut should have without any of the amateur recording or production value. The songwriting is something not to be overlooked. Pop punks songs absolutely need to have the hooks, but without quality lyrics and solid song structure they're just fodder for the bargain bins of tomorrow.