IAR 19 - 7"
The Mugwumps "Do Time"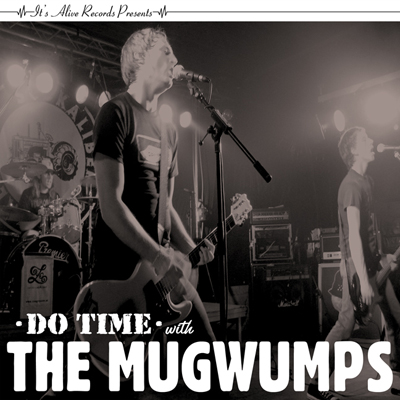 Release Date: November 2007

Test Pressing: 5 black vinyl
First Pressing: 350 blue vinyl, 150 black vinyl

Cover Art: Adam Alive

01 - Do Time
02 - Pass Out
03 - Monkey Face
04 - Wanna Be Alright
The Mugwumps play straight up 4-chord punk rock. They've got a big Ramones sound going for them circa Too Tough To Die. There's a lot to be said about keeping it simple, but keeping it fresh and listenable at the same time. To do that you've got to have vocals that stand apart from the masses, which Chris Mugwump definitely does - he's got a great, gruff howl not many in the genre could compete with. You've also got to have your shit locked down water tight: the 16th's have got to be on time, the down-strokes have got to be flawless and you've gotta make it look and sound easy! Finally, there has got to be at least a little bit of variety of style between your songs - Do Time starts things off right with a nice pogo popper ("Do Time"), goes into a midtempo singalong head bobber ("Pass Out"), flipsides into a fist pumping screamalong ("Monkey Face") and rounds things out nicely with an old style foot stomper ("Wanna Be Alright"). The Mugwumps take care of business like total champs.