IAR 20 - 7"
The Steinways "Unoriginal Recipe"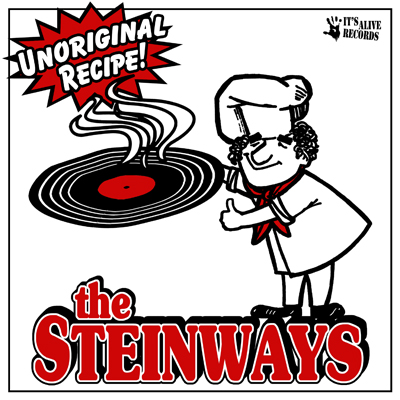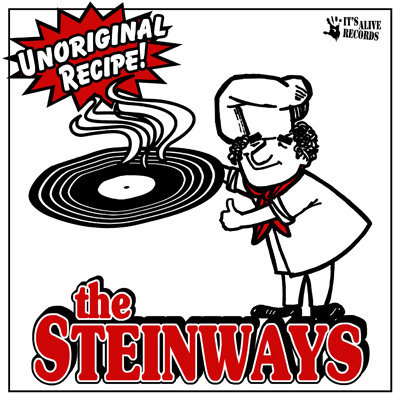 Release Date: January 2008

Test Pressing: 5 black vinyl
First Pressing: 350 crust brown vinyl (99 sold in pizza packs, 15 sold in "rotten" pizza packs), 150 black vinyl
Second Pressing: 500 black vinyl

Cover Art: Adam Alive

01 - Good Morning, Sunshine
02 - Twenty Year Old Virgin
03 - I Shit (You Not)
04 - Sunnyside Up
05 - Main Street, Flushing, USA
06 - Voce Tem Labios De Uma Galinha
Unoriginal Recipe is the fourth release by The Steinways. It's the first release of theirs not to have any tracks clocking in under 30 seconds - something that the band became somewhat known for following the release of their debut 20 track less than 20 minute long album Missed The Boat. Some might say the change came about as a result of the bands maturity level being on the rise, but who are they kidding?! We're more comfortable thinking that it's more about the band giving the people what they want - more bang for their buck! Instead of teasing and taunting listeners with 30 seconds of pure awesome and then ending abruptly - leaving them with whatever the equivalent of audio blue balls is - they're giving us all a full minute (or more!) of solid audio gold! Yeah, I know, a whole minute - Thanks, Steinways! In all seriousness, the six songs that make up Unoriginal Recipe may not be any more mature in content or even style than The Steinways' previous releases, but they are most definitely a step up in the development and crafting of instantly catchy, clever classics department. Every record The Steinways put out will be better than the one before. If you're not hooked at this point, stay tuned for the next one. Eventually this band will own your ears.