IAR 21 - LP
The Peawees "Walking The Walk"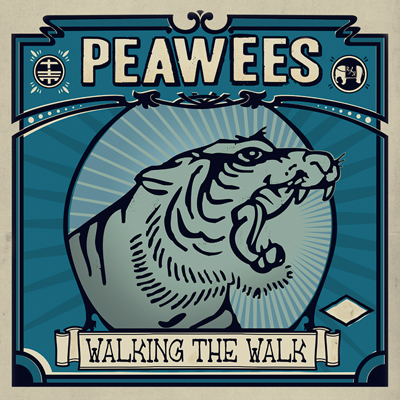 Release Date: January 2008

Co-Released with Gonna Punk Records

Test Pressing: 3 black vinyl
First Pressing: 500 black vinyl

Cover Art: El Bat / Mass Mosrite

01 - I Believe
02 - Wild About You
03 - Action
04 - Tomorrow I'll Be Done
05 - I'm Depending On You
06 - Bleeding For You
07 - Work It Out
08 - Cloudy Vision
09 - The News
10 - Please Go Away
11 - Walk
The Peawees are back and better than ever! With the release of Walking The Walk - the band's fourth full-length album - we find The Peawees cranking out more of their meaty blend of rockabilly, punk rock, classic 50's rock-n-roll, rhythm 'n blues and Italian spice. But this time around there's a new ingredient added to the mix in the form of a heavy 60's soul sound that has never been as forwardly present on past albums as it is here. There's much more of an overall melancholy vibe to many of the songs as well which the new soul sound really lends itself to very well. Whereas The Peawees previous albums were more likely to induce foot-stomping, fist-pumping and head-banging, Walking The Walk is likely to get you hand-clapping, leg-slapping, gyrating and getting down with some serious boogie-woogie moves. As is the case with all past albums by The Peawees, the musicianship and singing on Walking The Walk are top-notch. There isn't a band in America, Italy or anywhere else playing this style of rock-n-roll better than The Peawees.