IAR 22 - CD/LP
Chinese Telephones "Chinese Telephones"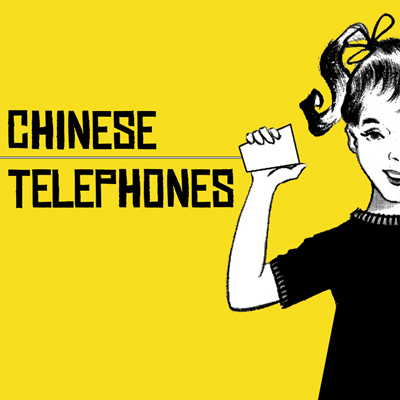 Release Date: November 2007

Test Pressing: 5 black vinyl
First Pressing: 200 clear vinyl, 300 black vinyl, 1000 digipak CDs
Second Pressing: 200 blue vinyl, 300 black vinyl, 1000 jewelcase CDs
Third Pressing: 500 blue/yellow split color vinyl

Cover Art: Mark Burke

01 - I Can't Be Right
02 - Tell Me Tell Me
03 - Waiting For You
04 - Back To You Again
05 - Stay Around
06 - Live Like This
07 - Keep Smiling
08 - I Think I Can Breathe Now
09 - In Due Time
10 - This Time Next Year
11 - Crying In The Chapel
12 - It's Starting Again
Chinese Telephones is the soundtrack to a sweaty house-party basement show in Any town, USA. It's got the get-up-and-go of a youth anthem fight song for the fist-pumpers, the pogo power for the pop punkers, the heartache in the slowdown for the heartsick, and the undeniable catchiness in the hooks that brings it all together for everyone to come together, sweat together and hug it out in the pit. As is usually the case with the best bands playing punk rock these days, the music played by Chinese Telephones is hard to nail down to any one style or genre. The guitar work these guys put out is all killer! The rhythms are thick and chunky, and the leads and fills are super clean. Daniel James really knows his shit – quite a few of the tracks on Chinese Telephones have guitar leads and fills from start to finish. That alone takes a lot of skill to pull off, but the fact that it never gets stale takes some serious talent! Like the rhythm guitar, the bass lines are big and beefy. And like Daniel James, Ray Suburbia knows his way around the block on his bass. The backbeat for the whole enchilada is laid out by Gorky on drums. The energy and enthusiasm of his drum work set the pulse high for the heart attack on its way. Justin's lead vocals are filled with power and passion. When someone really makes the most of what he's got it comes through as more than just sound - it's felt as much as it's heard. Ray Suburbia is joined by Jeff Burke of the Marked Men for much of the backing vocals, all of which are right on-time and in just the right amount. The lyrics are the biggest mystery with this band. Justin's dead-set against printing any lyrics of his from here on out. Some friends of the band say it's because he doesn't actually have words for parts of the songs so he just grumbles some nonsense. As funny as that would be, it's not true. Listen long and hard and you'll make out the message your gut and your chest already figured out on first listen. Besides, nothing makes you wanna sing along more than when you don't know a single word. The Riverdales knew it, the Marked Men knew it, and now Chinese Telephones know it.