IAR 28 - 7"
Be My Doppelganger "Sonic Annihilation"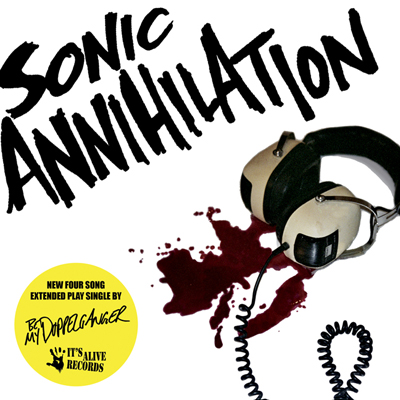 Release Date: December 2008

Test Pressing: 6 black vinyl
First Pressing: 500 black vinyl

Cover Art: Matt Glick

01 - Get In Line
02 - Turning Seventeen
03 - Pizza Party At Spinelli's
04 - Untitled
Whether you like you pop punked or your punk popped, Be My Doppelganger has you covered. On one end you've got hard-driving rockers accented with great harmonies and catchy melodies, and on the other end you've got the upbeat sing-a-longs with a tougher, ballsy foundation keeping it all grounded in punk rock. The combination of sonic styles is the product of having brothers Matt and Bradley taking turns with the songwriting and lead vocals. Both work well as front-men and equally well as backups. On lead guitar, Kevin keeps it rock n roll with some fancy pants riffage that is hesh enough of get the long-hairs head bangin', but not so over-the-top to drive off the Johnny Ramone fans in the crowd. Keeping it all together on drums, Thomas sets a punchy, up-tempo beat to round out the band's sound. The songs on Sonic Annihilation are equal parts pop, punk, power pop and rock n roll – there's something in there for everyone!