IAR 33 - LP
The Methadones / The Copyrights "Split"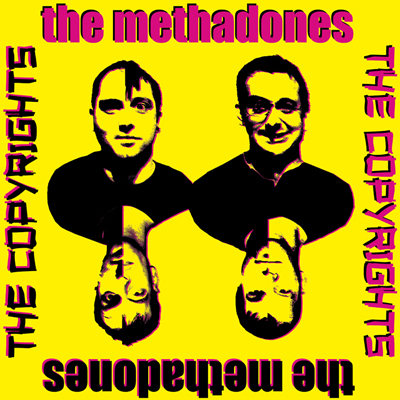 Release Date: June 2009

Test Pressing: 26 black vinyl
First Pressing: 500 pink vinyl, 500 black vinyl

Cover Art: Adam Fletcher

01 - Imperfect World (The Methadones)
02 - 3-2-1 (The Methadones)
03 - Under The Skyline (The Methadones)
04 - On The Clock (The Methadones)
05 - Easter Island (The Methadones)
06 - What Do You Believe In? (The Methadones)
07 - Keep Me In The Dark (The Copyrights)
08 - Trapped On A Reel (The Copyrights)
09 - We're Not Gonna Make It (The Copyrights)
10 - Holidays (The Copyrights)
11 - Flooded Basements, Abandoned Beaches (The Copyrights)
12 - Locked Outside A Motel Without Shoes, A Wallet Or A Phone (The Copyrights)
Six songs each from two of today's greatest bands together on one record. That makes for a dozen reasons why this is one of the best splits ever! The Methadones and The Copyrights do Illinois proud on this collaboration - it's north meets south with awesome results.