IAR 35 - CD/LP
The Gateway District "Some Days You Get The Thunder"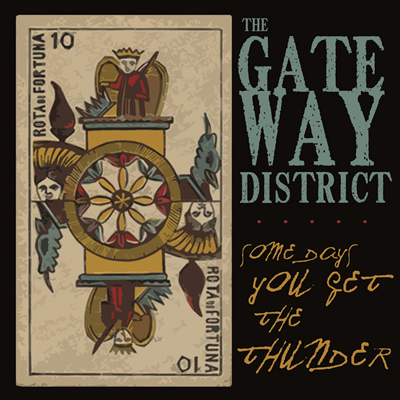 Release Date: June 2009

Test Pressing: 4 black vinyl
First Pressing LP: 500 orange vinyl, 500 black vinyl, 1000 jewelcase CDs

Cover Art: Brad Lokkesmoe

01 - Keeps Track Of The Time
02 - Bad Idea
03 - River Trash
04 - Some Days You Get The Thunder
05 - Song For Sue
06 - This Guitar
07 - United Crushers
08 - Odd Pauses
09 - Highway Song
10 - Lake Street Is For Suckers
11 - Falling Down And Leaving Town
12 - September
13 - Run To Me
The Gateway District is one of the latest and definitely greatest bands to come out of the Minneapolis, MN scene. Members include Maren (of the Soviettes and Salteens), Carrie (of American Monsters and Salteens), Brad (of Dear Landlord and Rivethead) and Nate (of Banner Pilot, OWTH and Rivethead). Call it a super-group, a side project or whatever you want. All three song writers bring a style of their own to this album making for a great mix of character and approach from song to song. The end result is 13 tracks of punk rock served straight up and country fried! The artwork is fantastic and something you should care to own - 16 page full color booklet. Each band member contributed art for each of their songs, so again, three styles come together to make for an awesome whole. Some days you days you get the thunder... This is gonna be one of those days.