IAR 37 - 7"
The Methadones "Gary Glitter"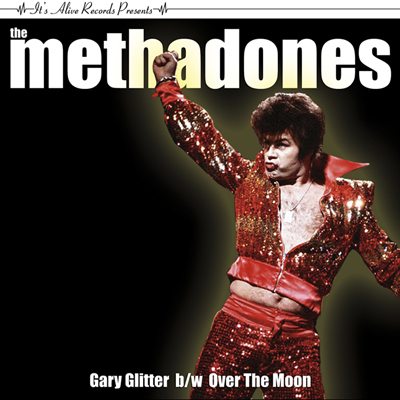 Release Date: August 2009

Test Pressing: 3 black vinyl
First Pressing: 500 gold vinyl, 500 black vinyl, 100 red vinyl

Cover Art: Simon Lamb

01 - Gary Glitter
02 - Over The Moon
Gary Glitter - the first 7" release by The Methadones - picks up right where their 21st Century Power Pop Riot album left off with an ode to the king of glam himself. On the opening track "Gary Glitter", The Methadones proudly display their love for the man's music with the song's stomping beat, slick riffs and gang vocal choruses, but in lyric show a distaste for the man himself by asking plain and simple, "What the fuck is wrong with Gary Glitter?" The flipside of the ep features the straight up pop punk gem "Over The Moon." Few people can write a song as catchy and perfect in its simplicity as front man Dan Schafer. This ep showcases The Methadones ability to not only write and record different styles of music, but to excel at it!