IAR 38 - 7"
The Legendary San Diego Chargers / Sunnyside
"Give 'em Enough Booze"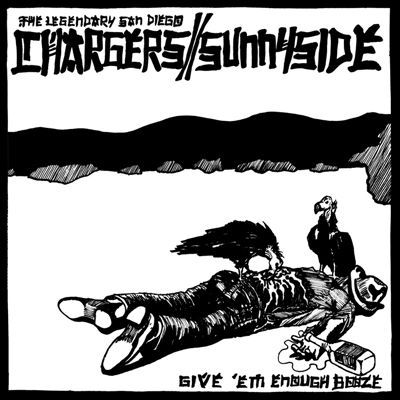 Release Date: October 2009

Test Pressing: 3 gold vinyl
First Pressing: 800 black vinyl, 200 gold vinyl

Cover Art: Jay Insult

01 - Things Are Pretty Fucked (The Legendary San Diego Chargers)
02 - Two Harbors Part Deux (Faster & Harborer) (The Legendary San Diego Chargers)
03 - You Will Find True Love On Flag Day (The Legendary San Diego Chargers)
04 - General Discussion On The Punkboard (Sunnyside)
05 - All Monkey Radio & The Tranny Cock (Sunnyside)
06 - Worldly Possessions = Crack Pipe & Denim Jacket (Sunnyside)
Earlier this year San Diego's Sunnyside did a west coast tour with Minnesota's Pretty Boy Thorson & The Fallin' Angels. Pretty Boy were touring as a three piece instead of their usual five. On top of that, Brad Landlord was filling in on drums. Apparently they didn't know how to play too many PBT songs, and The Legendary San Diego Chargers were born out of the mess! If you took the country out of PBT, the punk rock core you'd be left with is exactly what TLSDC sound like - hard driving, singalong songs with a bunch of gravel in the guts.

Sunnyside are everything that was and is great about the San Diego punk sound of the glory days when pop punk was big shit down there. They know how to put together a catchy tune without any of the unnecessary glitzy garbage. The vocals are unpolished and harsh at best - a perfect match for the crunchy pop punk music it fronts. This is the first of near forty releases we've put out to date with a southern California band. We were waiting for something gnarly and got just that.