IAR 39 - 7"
The Festipals "Gold Magic"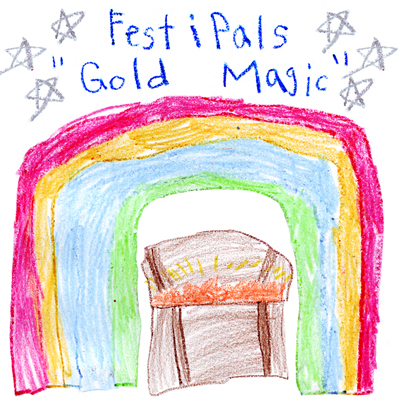 Release Date: October 2009

Test Pressing: 8 black vinyl
First Pressing: 1000 mixed color vinyl (380 charcoal, 155 black, 125 silver, 105 rust, 60 pink, 50 mint green, 45 cream, 35 cyan, 25 violet, 20 peach)

Cover Art: Peyton & Rylie McInerny and Aaron Ali

01 - Revolver
02 - Pledge This
03 - Souvenir
04 - Let's Not Pretend
05 - All The Angles
Festipals are four friends who get together to write and record great music to play at various festival type shows throughout the year. They are all currently and formerly in other bands including Charlie Brown Gets A Valentine, Dead Mechanical, Sick Sick Birds, Nancy and The AV Club. Each member brings something special to the band that can be found in the tunes of all their other bands, but when combined with one another as Festipals it makes for something all together different and its own special kind of awesome. A super group by any other name is still a super group, so call it what you will. Up until this record they only had a few self-released cd-r's which were all given away and traded for beers at shows. Catch 'em live and I bet you this 7" will cost you no more than a cup of whatever's on tap.