IAR 41 - CD/LP
House Boat "The Delaware Octopus"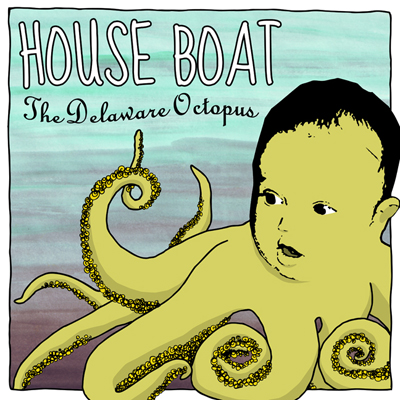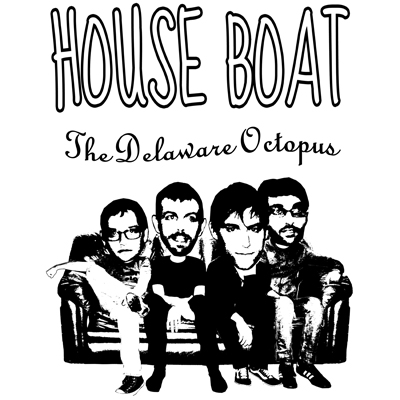 Release Date: November 2009

Test Pressing: 50 mixed color vinyl (40 grey rainbow splatter, 3 rotten plum, 3 planet earth, 2 beige rainbow splatter, 1 diarrhea green, 1 grapeful dead) sold as tour edition
First Pressing: 875 mixed color vinyl (300 Sea Green, 145 Rust, 125 Pale Green, 95 Olive, 90 Cloudy Black, 50 Grey, 45 Mauve, 25 Pale Blue), 1000 jewelcase CDs
Second Pressing: 225 black vinyl

Cover Art: Michelle Shirelle / Adam Alive

01 - I Watched The Biggest Loser Australia
02 - I Work On The 13th Floor
03 - Alonelylonelylone
04 - Battlestar Gallactica vs. Pop Punk Message Board VI (Grivet Loves Goats)
05 - My Guts Have Shit For Brains
06 - My Life Hurts
07 - Every Day
08 - Are You Into Metal?
09 - 30 Going On 13
10 - All Of The Time
11 - A Song For Halfpint To Suck My Balls To
12 - Wait, What?
13 - Dumbmarket Travesty
What do you get when you take Grath and Azeem from The Steinways and put them in a band with Zack Off With Their Dear Landlord Heads and Miked To Die Erg [SA]? House Boat, that's what you get! More specifically, The Delaware Octopus. And what's The Delaware Octopus? Shit if I know! But I can tell you it's catchy, it's clever, it's cynical and it's one of the best pop punk albums you're ever going to hear! Short, sweet and the point... whatever that point may be!