IAR 48 - LP
Chinese Telephones "Democracy"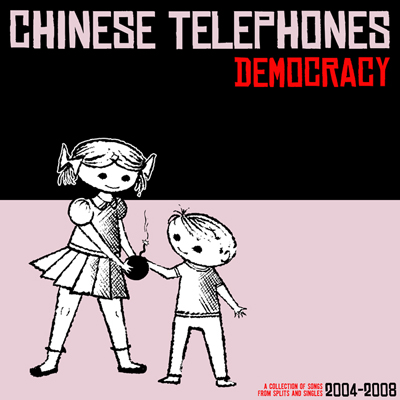 Release Date: May 2011

Test Pressing: 9 pink/black split color vinyl
First Pressing: 400 black vinyl, 150 pink/black split color vinyl

Cover Art: Adam Alive

01 - This Time Next Year
02 - Magic Beans For The Taking
03 - I Tried And Failed And Cleaned Up Afterwards, So It's Your Turn Now
04 - Basement Child Super Rock Fun, Go!
05 - I Think I Can Breathe Now
06 - I'm Doing Fine
07 - All Bets Are Off
08 - The Tank Is On The Left
09 - Thosehotmilwaukeenights
10 - Let Me Call You Back; My Stories Are On
11 - Learning Nothing New
12 - Better Than The Next
13 - Prescription Pills And Medical Bills
14 - All Right
15 - I Don't Wanna Get Involved
16 - Game Of Pricks
Chinese Telephones have exactly twenty-eight recorded songs in existence - twelve from their s/t album and sixteen from the singles and splits that make up Democracy. I know I am not alone in feeling like they have had a much larger impact on the past seven years of punk rock than a mere twenty-eight songs could achieve. Actually, if you don't count re-recordings of previously released songs, they only have twenty-four songs out there in the world! I think that speaks so highly to the greatness of their music. Sometimes the best bands make up for what they lack in quantity with undeniable quality. Chinese Telephones are a rare breed of band - they don't come along often so you better keep up with them while you can. This collection will serve as a great opportunity to do just that.