IAR 50 - CD/Double LP
The Copyrights "Shit's Fucked"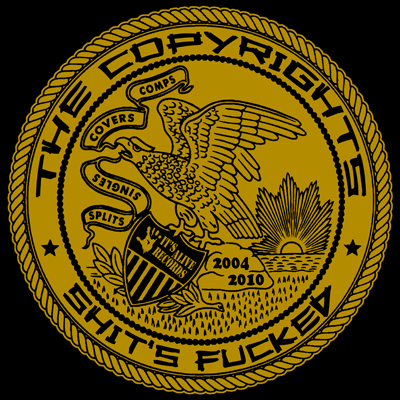 Release Date: May 2013

Test Pressing: none
First Pressing: 300 black vinyl, 200 gold w/ black swirls vinyl, 500 ecopak CDs

Cover Art: Adam Alive

01 - Button Smasher
02 - Let's Get The Fuck Out Of Here
03 - I'm Not Calling You
04 - Our Turn
05 - Forever Or Today
06 - Help Me Stay Awake
07 - Screwin' Around
08 - Kolmer Irons His Socks
09 - Meathead
10 - New One
11 - Dead Flowers
12 - Carmelita
13 - Keep Me In The Dark
14 - Trapped On A Reel
15 - We're Not Gonna Make It
16 - Holidays
17 - Flooded Basements, Abandoned Beaches
18 - Locked Outside A Motel Without Shoes, A Wallet, Or A Phone
19 - Grown Folks Business
20 - Days Of Despair
21 - I'd Probably Rather Die Or Something
22 - Get Got
23 - Lillian
24 - Immovable Object
The Copyrights hit the ground running in 2002. They pumped life back into the near dead pop punk scene of the time and turned it on its ear. They redefined the pop punk genre and added something it never really had - an anthem. They turned what was once a VFW Hall full of leather jacket Converse Chuck Taylor wearing toe tapping and head bobbing kids into a basement packed with sweat-soaked people of all ages and all kinds going nuts and screaming along with every word to every song while floating crowd surfers and dodging stage divers. Some might think this version of history is fucked, but I challenge them to name a pop punk band that came before The Copyrights that acted as a catalyst to the change of what was the pop punk scene of yesteryear to what is the pop punk scene of today. Sure, many more came after and did a lot for the scene and brought it to new levels, but The Copyrights opened that door and paved that road.

The Copyrights have always been thought of as our "house band." We may not have released every album of theirs on every format, but we've released more records of theirs than any other two It's Alive bands combined. Their list of "first times" with It's Alive continues to grow. They were our first release, first 7", first record to go into a second pressing, first band to do more than one release with, first acoustic release, first full length, first 12", first picture disc, first split LP, first gatefold and now first double LP.

We always knew our 50th release had to be something special done with a band that was special to our label. So here it is, The Copyrights Shit's Fucked double LP/CD 24-song collection of singles, splits and comp tracks from 2004-2010. Originally slated for release in early 2011, here it is finally seeing the light of day at the end of 2012. Like the song says, "Shit's fucked, but what can you do..."