IAR 51 - LP
The Steinways "Promise It'll Never Happen Again"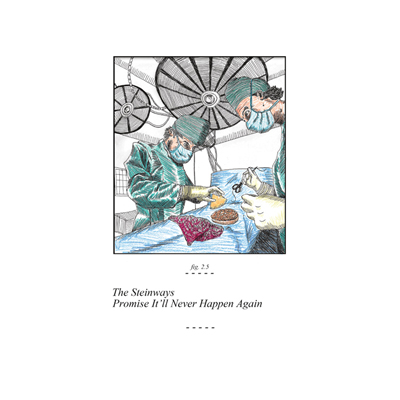 Release Date: February 2011

Test Pressing: None!
First Pressing: 500 black vinyl

Cover Art: Jared Jones

01 - (My Girlfriend Is A) Crazy Fucking Cat Lady
02 - Big Head Mode
03 - Chopsticks McVilla
04 - Fucking February
05 - Dead Boyfriend
06 - Mondays
07 - Milk Was A Bad Choice
08 - Fred's Slacks
09 - Are You Fucking Kidding Me?
10 - I'm Ice T
11 - Fuck You Guys (You're Out Of The Band)
12 - Really Really
13 - Debra McPrommyProm
14 - I Shit (You Not)
15 - Voce Tem Labios De Uma Galinha
16 - Good Morning, Sunshine
17 - Twenty Year Old Virgin
18 - Sunnyside Up
19 - Main Street, Flushing, USA
20 - The Worst Song Ever
21 - Chemical Sugar
22 - Ice Cream
23 - That Sorta Hot Pseudo White Trash Girl Who Used To Work At The Pool Hall
24 - Always? Never!
25 - Superfuzzbigmac
26 - (Un)Fortunately Gone
27 - Sara
28 - Today Is The Day We Are Getting Married
29 - Black Lung
30 - Headache - Girlfriend = Zero
31 - It All Went Wrong
I am not exactly sure what The Steinways are promising will never happen again, but if it has anything to do with making, playing, recording or releasing music, I hope they are proven to be liars someday! Listening to all of these songs collected from singles, splits, compilations and Grath's iPod made me remember why I loved them so much when they were still around - they made some of the most fun and fantastic pop punk music of the past decade! Promise It'll Never Happen Again collects remastered versions of every song ever released by The Steinways that didn't appear on either of their two full length albums. Two tracks are being released for the first time, another was only available on a not-exactly-available-for-sale wedding gift 7" that only 150 copies of exist, and the first eleven are being made available in digital format (iTunes and the like, as well as download codes included with all copies of the LP) for the first time... officially anyway. If you missed the boat on The Steinways the first time around, this is the perfect place to start. For existing fans, it's a great way to remember how good you had it when they were still around.