IAR 53 - CD/LP
Dan Padilla "As The Ox Plows"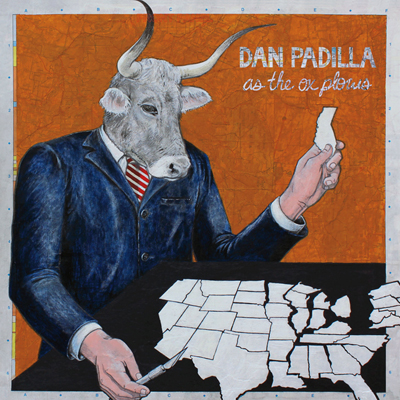 Release Date: April 2011

Test Pressing: 8 black vinyl
First Pressing: 440 black vinyl, 110 orange vinyl, 500 ecopak CDs

Cover Art: Scott Malosh

01 - Six
02 - The Last Arrivals
03 - Walk An American Mile
04 - Way Too Long
05 - MNPLS
06 - Fast Or Slow Zombie, Your Choice
07 - What Are We Here For?
08 - Chaparral Real
09 - From The Start
10 - Is That It?
11 - Booker T. Would Agree
12 - Something After
Let's face it. If you're over thirty, have moved out of your parents' house, and come to realize that "anarchy!" means no bridges, public libraries, streets, or fire departments, idealism's a much harder pill to swallow; especially when you're looking at it through possible liver damage. But the dudes in Dan Padilla have fought hard to remain ethical, moral, and honest well after more vocal members of the DIY punk community have "moved on" to the comfort and status quo they once claimed to despise and swore they'd "burn to the ground." Dan Padilla just wants some public space and the freedom to play what they've created... and the asshole cops can still go fuck themselves.