IAR 54 - LP
The Credentials "Goocher"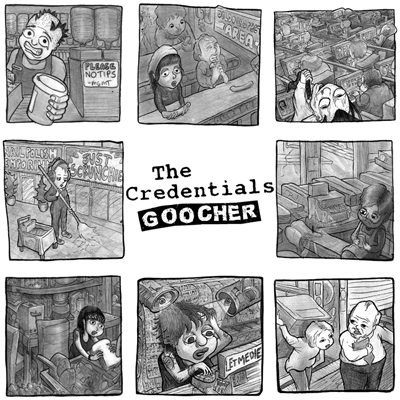 Release Date: May 2011

Test Pressing: 4 black vinyl
First Pressing: 1,000 black vinyl

Cover Art: Brian Connolly

01 - Energy Drinks For The Broken-Hearted
02 - Impending Swoon
03 - I Am Eating My Head
04 - Let's Get Arrested Tonight!
05 - Descending The Garbage Chute
06 - Combat Support
07 - Footbridge Blues, Pt. II
08 - Sex Dream
09 - Barren
10 - Younger Kids
11 - What Are Little Boys Made Of?
12 - The Target Demographic Has Had It Up To Here
13 - Stealers Keepers
14 - I Killed 122 Iraqis And All I Got Was This Lousy Engineering Degree
In a time when it's not only accepted but seemingly encouraged and even applauded for underground independent bands to get their music licensed for video games, car commercials, energy drink sponsorships and shit knows what else, it's nice to know some bands still stand against all that big deal bullshit. The Credentials are one of these bands. Ideals aren't dead and neither is punk. Goocher is the band's second album and it's stacked full of anthems shouted out against the bullshit we all see and deal with in day to day life. They don't get all preachy or pretentious with it either. They sing from the heart and go for the guts on every track. Musically The Credentials fall somewhere between the east bay sound of the '90s not unlike Crimpshrine and Pinhead Gunpowder and more modern bands like Chinese Telephones and Witches With Dicks. Mix all that up with a little '77 street punk style and crunchy pop punk jams and that's how Goocher is gonna rock you.