IAR 55 - LP
The Creeps "Lakeside Cabin"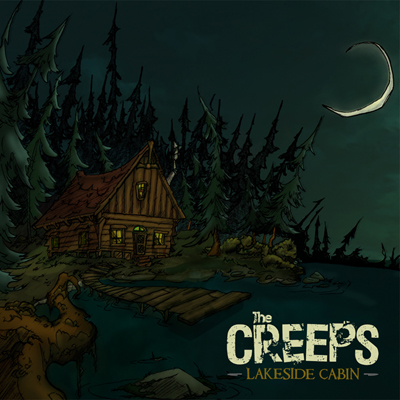 Release Date: July 2011

Test Pressing: 5 black vinyl
First Pressing: 550 green vinyl

Cover Art: Lisa Soper

01 - Bury The Bodies
02 - All The Way Home
03 - The Creeps Are A Gas
04 - Voices (Again And Again)
05 - We're Going Down
06 - Late Night Kiss
07 - Baby, Hold On Tight
08 - Palisades
09 - These Walls Have Eyes
10 - Long Way Home
11 - Lakeside Cabin
Originally released in 2008 on CD only by Black Pint Records, Lakeside Cabin is finally getting the vinyl treatment. In addition to the new format, the already excellent cover art has been improved upon with a fantastic reworked layout. Having released three albums prior to this one, Lakeside Cabin is the album in which The Creeps really broke out of the mold they had started out in and found their own sound. You can hear the transition from old to new throughout the album. While tracks such as "Bury The Bodies," "The Creeps Are A Gas" and "Long Way Home" echo the style of The Creeps' former albums, "All The Way Home" and "Baby, Hold On Tight" showcase a much more eclectic style with the addition of strings and funky bass lines. "Voices (Again And Again)" and "Palisades" also introduce new elements into the mix in the form of acoustic guitars and those absolutely perfect sparse backing vocals. Everything The Creeps released prior to Lakeside Cabin is good, but everything released after is absolutely essential. This album is a great place to start if you're just getting into The Creeps.