IAR 59- 7"
The Copyrights "Crutches"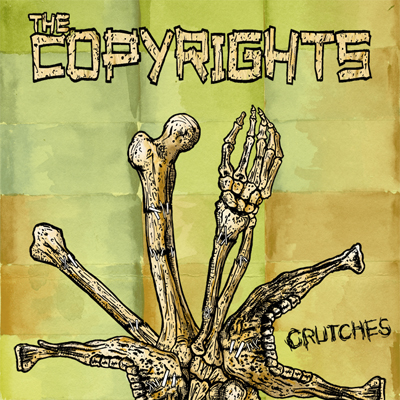 Release Date: July 2011

Test Pressing: none
First Pressing: 400 black vinyl, 100 green vinyl
Second Pressing: 300 white vinyl

Cover Art: Pete Ziegel (www.peteziegel.com)

01 - Crutches
02 - Current Event
03 - Sober Shell South
Crutches is the first single off of The Copyrights' newest album North Sentinel Island. Like all of their jams it is both instantly recognizable as a Copyrights song at the same time just different enough from previous works to keep you guessing where they are going with it. Having already heard the new album, Crutches is really much more of a teaser than a indicator of what's to come. The safest bet is just to expect the best because every longtime Copyrights fan will tell you each successive album is better than the one before and North Sentinel Island is no exception to that rule. The flipside of this EP contains two demo tracks that didn't make the cut for the final recording of the new album; One a straight forward punk jam. The other a total pop ballad. A band that can nail it both ways is definitely doing something right.