IAR 60 - LP
The Copyrights "North Sentinel Island'"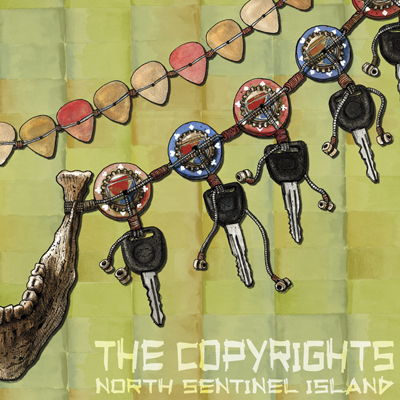 Release Date: October 2011

Test Pressing: none
First Pressing: 500 black vinyl, 100 red vinyl, 100 white vinyl, 100 blue vinyl, 100 yellow vinyl, 100 green vinyl
Second Pressing: 500 brown vinyl
Third Pressing: 500 sky blue vinyl

Cover Art: Pete Ziegel (www.peteziegel.com)

01 - Trustees Of Modern Chemistry
02 - Crutches
03 - Hard-Wired
04 - 20 Feet Tall
05 - Expatriate Blues
06 - Bow Down
07 - Worn Out Passport
08 - Restless Head
09 - Sleep Better
10 - Scars
11 - The New Ground Floor
12 - Never Move Your Back Row
13 - Well-Fed And Warm
14 - Hell Will Be Party Time
It's hard to believe it has been eight years since The Copyrights released their first album way back in 2003. Pop punk had long since burst onto the scene, into the big leagues and retreated back to the basements by then, leaving behind the last of the diehards.

Among those diehards were The Copyrights. Still teenagers then, these guys took everything good about the old style and made it new again... and better than ever. They were among the first of a few young bands to really take pop punk, turn it on its end and redefine the genre.

Eight years, a slew of singles and five full length albums later they are still at it. They continue to define and redefine the genre with each successive album. No two Copyrights albums sound exactly the same, but they are all unmistakably Copyrights through and through. Bands like this make sticking to the music you love despite all of its lows worth it every day.

North Sentinel Island is the best Copyrights album to date. But ask any Copyrights fan and they will have said the same about each new album when it came out. They aren't wrong - this band just gets better and better with each new record.