IAR 64 - LP
Sass Dragon "New Kids On The Bong"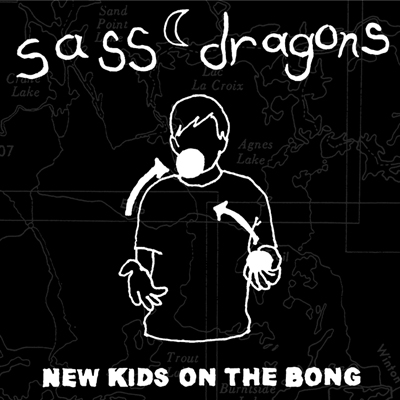 Release Date: October 2012

Test Pressing: None
First Pressing: 500 black vinyl

Cover Art: Jason Smith

01 - Your Turn, Cop
02 - Put You Hands On Me
03 - Why Don't You Fuck Her On The Ground?
04 - Dear St. Anne, Please Send Me A Man
05 - Give It Back
06 - 8 Or 9 On A Bike
07 - Jam It In
08 - Himalayan Salt
09 - Sleeptalking
10 - The Tails Of Meow-Meow & Fuck-Fuck
11 - Rude Kitty
12 - 8AM
13 - Danny Vapid Has Powers
14 - Firepower!
15 - Diaper Baby
16 - White Girls
Sass Dragons are back! These dudes broke up a couple of years ago shortly after the CD release of this album. But they are back together again so we teamed up with No Breaks Records to get them started back up right where they left off. New Kids On The Bong is an epic album. I don't use the word "epic" lightly, mind you. Sass Dragons were and are one of thee best punk rock bands of the past decade or two and NKOTB is recorded proof of that claim. These Chicagoans know how to write a tune and play the shit out of it. While most of the jams on this album are of the poppy punk variety, there is also a handful of cut-loose thrash jams, straight up tear jerker monster ballads, pro radio style talent tunes and even a goddamn ho-down hobo classic! Eclectic? Yeah, and then some. Banjo, saxaphone, acoustic guitars and keyboards all work their way into this album and it ain't no thing at all. It's like that shit was always used in punk rock and you just never noticed. Sass Dragons forever!