IAR 65- LP
The Manix "Neighborhood Wildlife"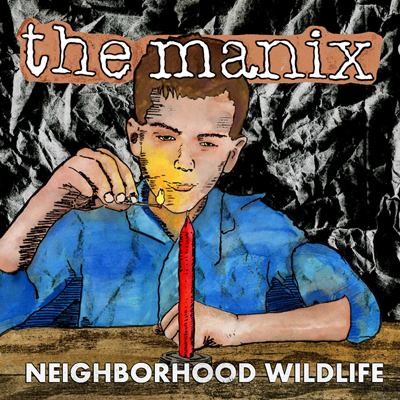 Release Date: December 2011

Test Pressing: none
First Pressing: 300 black vinyl, 200 red vinyl, 1000 digipak CDs
Second Pressing: 500 blue vinyl

Cover Art: Corey Ayd

01 - Fingers Crossed
02 - Where Do We Go?
03 - What's Myage Again?
04 - Quite Wry Anger
05 - Another Message
06 - Midwest In Jest
07 - Red Truck
08 - Hamms Across America
09 - Greatest Thieves
10 - Loose Brick
11 - She Believes In Jesus And Marketing
12 - This Old House
Enough is enough. Minneapolis punk bands seriously need to take a year or two off and let the rest of the country catch up with their awesomeness. It really is getting ridiculous how many incredible bands call that city home. Being the land of a thousands lakes, I gotta believe it is something in the goddamn water. Sure, many of the bands coming out of MPLS have similar sounding styles, but why is that a bad thing if their styles of choice kick my ass every time?

The Manix are the latest musical champions from this magical land to have graced It's Alive Records with the privilege to release a record of theirs. Their debut album Neighborhood Wildlife is packed with a dozen jams that absolutely kill it with every listen! The songs showcase a great mix of the shoutalong go-for-broke anthems super-prevalent in the basement scene of today's midwest and the ultra catchy head-bopping melodies that are the core of all pop punk past and present. The lyrics are smart, thoughtful and heartfelt without any hints of trying too hard to be anything they aren't. The album was mixed at mastered by Jacques Wait - the man behind the boards for many an album from other MPLS locals such as Off With Their Heads, The Soviettes, Dear Landlord, Banner Pilot and The Gateway District - so you know this shit sounds tight!

Frontdude Corey Ayd spends his time away from The Manix as a member of the professional punk rock group Banner Pilot, so there's a whole wealth of incredible music to feed off of right there. Drummer Mike Cranberry also plays in Nato Cole's latest rock group The Blue Diamond Band and is the sweetest dude on planet earth. Second vocalist and guitarist Steve used to be in The Turkletons, so that's pretty much gonna sell a thousand copies of this album right there. Tyler was something like 12 years old when he played on this album, but left the band to pursue a high school education or something like that. Joe, formerly of Amen And The Hell Yeahs has replaced him and totally upped The Manix drunx punx points.

How these kids in their early 20's come off sounding like the new reigning champs of punk rock I have no idea, but they do... It's gotta be the fucking water!