IAR 68 - 7"
Lipstick Homicide / The Turkletons "We're Gonna Need A Bigger Coat"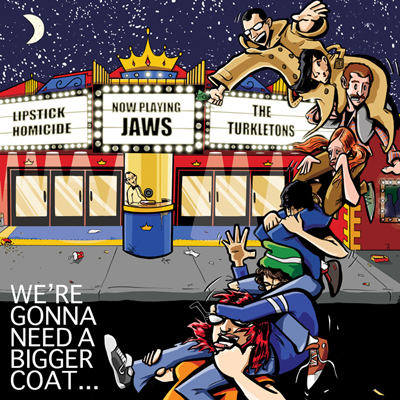 Release Date: May 2013

Test Pressing: none
First Pressing: 350 black vinyl, 200 red vinyl, 200 yellow vinyl

Cover Art: Jared "Chubbybones" Martin (chubbybones.blogspot.com)

01 - Not That Easy (Lipstick Homicide)
02 - Some Sympathy (Lipstick Homicide)
03 - Geography (The Turkletons)
04 - Common Ground (The Turkletons)
How much pop punk can you take? A lot, I hope. Because that's what you're gonna get on this split. Lipstick Homicide and The Turkletons could seriously kill you with all the pop in their punk.

Lipstick Homicide play it like a direct continuation of the early Lookout Records sound that was coming out of the bay area before they were even born. Big nods of respect especially to Kerplunk era Green Day. But Lipstick Homicide are undeniably a midwest band. They've got that certain midwest something special that you can't ever really pin point or explain, but when you hear it you instantly recognize it and eagerly welcome it in. Lipstick Homicide have one of the most unassuming yet raw and powerful presences on stage. I can't imagine even the biggest pop punk hater seeing them live and not being impressed with their live show. Chances are good even that hater is walking away a fan.

The Turkletons remind me of a rag tag version of Teen Idols. They are fully aware and capable of putting together the sweetest harmonies and melodies, but can't be bothered to try to sing like some perfect pitch choir kids and play every note just so. Instead they put their energy to better use having fun and making you laugh, smile, sing, dance or at the very least tap your toes and do a little head bob, dammit. Much like their pals on the flipside of this split, The Turkletons put on a great live show full of energy and lots of fun. But unlike their pals, they were not asked by Green Day to open for them at Madison Sqaure Garden this past year. What the fuck, Green Day?