IAR 75 - 7"
Up For Nothing "In Trance"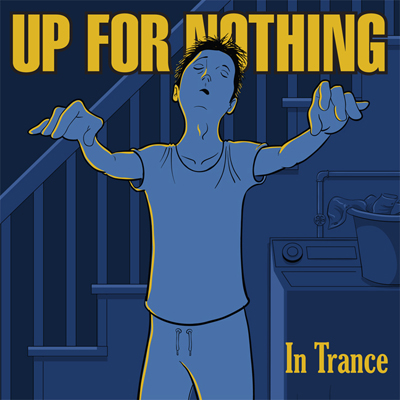 Release Date: May 2013

Test Pressing: 8 brown vinyl
First Pressing: 495 purple vinyl, 5 pink vinyl

Cover Art: Ernie Parada

01 - This Moment
02 - Speak Through Silence
03 - The Worst Things To Say
04 - The Side Of Caution
05 - Weightless
Brooklyn's Up For Nothing have been around for 10 years, but from their style and sound you might think it was closer to 20. They play it fast, melodiic, anthemic and overflowing with positivity much like the bands coming out of New York back then. But their passion and energy keep it fresh and focused on what's going on today not just in the greater New York area, but far beyond as well. Mixing the best of NY past and underground pop punk present, Up For Nothing come up with some of the catchiest and instantly memorable hooks of any band playing today. Singing along with the choruses on your first listen is a huge testament to the power of a band's hook. Up For Nothing will succeed in doing just that.

In Trance was recorded by Pete Steinkopf (Bouncing Souls), produced by Ernie Parada (Token Entry, Black Train Jack, Grey Area) and mastered by Stephen Egerton (Descendents, ALL). I don't usually make a point of listing non-band credits when introducing a new record, but with guys like these with such incredible credentials behind them, I can't resist.