IAR 77 - CD/LP
Zatopeks "About Bloody Time"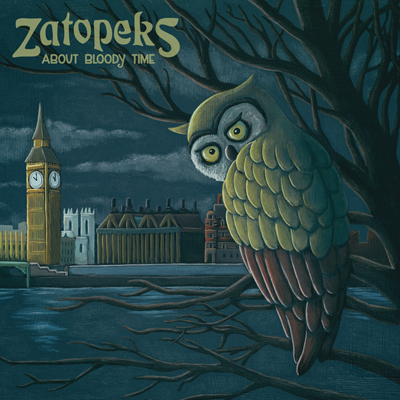 Release Date: December 2013

Test Pressing: none
First Pressing: 500 black vinyl, 1000 jewelcase CDs

Cover Art: Stefan Tijs (www.stefantijs.com)

01 - One Evening
02 - Alert!
03 - The Romance Of A Bus Stop In The Rain
04 - Politics
05 - Acetate
06 - Neu-Isenburg
07 - Wait For The Fall
08 - Chequerboard
09 - Exile Blues
10 - Baltic Moon
11 - Mechanised
12 - Life Is Elsewhere
About Bloody Time is the third album from the Zatopeks and their first with It's Alive. It's been a long six years since their last album, and seven since their last release with us. To say it's about bloody time is the understatement of this past decade. I still kick myself daily for not having released their last album on It's Alive.

Never a band easy to describe or categorize, Zatopeks are back with more of their own unique interpretation of punk rock that is unmistakably theirs alone. Mixed parts pop punk, classic 77 style, rock n roll, and folk all come together as a style instantly recognizable to fans as the Z boys' classic sound, and sure to make a lasting impression on those hearing the band for the first time. And just as every previous album of the Zatopeks found the boys stretching the mould and adding new elements, so too does About Bloody Time.

Powerful, poetic and insightful lyrics are an integral part of what makes a Zatopeks song. Will Deniro continues to improve upon his past achievements and make a lyric sheet a must have part for the complete package. It's quite a testament for a lyricist to be as interesting as word on paper as he is as voice on record. Will's brilliant at doing just that.