IAR 79 - LP
Sunnyside "Welcome To San Diego"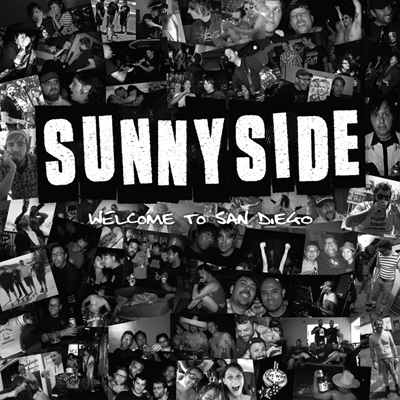 Release Date: September 2013

Test Pressing: 5 black vinyl
First Pressing: 250 black vinyl, 200 green vinyl, 100 yellow vinyl

Cover Art: Gene Doney

01 - Margaritaville
02 - Warren's Happening Pad
03 - Starin' At The Walls
04 - Zamboni To The Jack In The Box
05 - Knifefighting My Way Through A Cosmic Bitchfuck
06 - Gasoline Boots
07 - Sally Jesse Raphael
08 - Worldly Possessions = Crack Pipe & Denim Vest
09 - Lights Out
10 - Ross vs Dartman
11 - Gumball Rally
12 - Air Coryell
13 - Wrong Side Of A Sunrise
14 - Who Let The Coug Out
Welcome To San Diego is the first full length album and second It's Alive release from Sunnyside. These guys have been kicking around and playing in bands down in their local scene for a long time. They've got a classic San Diego punk sound. It's super catchy and melodic, but totally rough around the edges. Nothing is polished. Vocals are gruff and at times totally shredded. Guitars are big and crunchy. Sunnyside has really filled out their sound on this album with the addition of a third vocalist and a bunch of trade-off and teamed up lead vocals. I guess duets can be pretty punk, too. This shit is straight up punk rock just the way it should be done. Co-released with ADD Records (www.addrecs.com), Little Deputy Records (www.littledeputy.com) and Eager Beaver Records (eagerbeaver.shop-pro.jp).