IAR 81 - 7"
The Turkletons "Fur Frontal"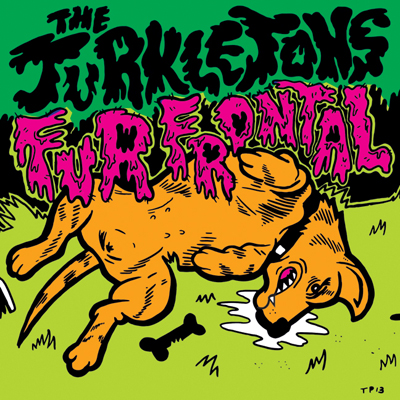 Release Date: June 2014

Test Pressing: 7 black vinyl
First Pressing: 250 black vinyl, 125 green vinyl, 125 pink vinyl

Cover Art: Todd Purse

01 - Take Off You Hoser
02 - You Had Me At Fuck Off Needledick
03 - Ladykiller
04 - Never Leave A Man Behind
Two years ago The Turkletons split a 7" with Masked Intruder and now those crooks are top of the pops. Last year The Turkletons split a 7" with Lipstick Homicide and now those kids are America's sweethearts (and American Idiots' [obligatory Green Day name drop] too). Tired of carrying other bands to the upper echelons of pop punk fame and fortune, The Turkletons decided that this year they would put out a split 7" with themselves. Yes, a record with The Turkletons on both sides! Fur Frontal delivers not two, not three, but four of thee best pop punk songs ever crafted by aging Minnesota pop punkers still into this shit after all these damn years. You'd be hard pressed to find a band cranking out catchier, more infectious, funny-ass jams than The Turkletons. I hope you can handle it.