IAR 82 - CD/10"
Kingons / The Maxies "Split"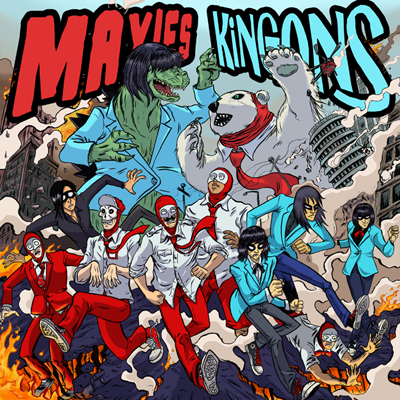 Release Date: November 2013

Test Pressing: none
First Pressing: 250 black vinyl, 250 white vinyl, 1000 ecopak CDs

Cover Art: Tim Cochran (timcochran-art.com)

01 - Come To Rise (Kingons)
02 - I Don't Wanna Stop My Music (Kingons)
03 - It's Too Damn Hot Where You Come From (The Maxies)
04 - Jenny's In Trouble Again (The Maxies)
05 - It Ain't No Fun (The Maxies)
Earlier this year The Kingons came over from Japan to do a little California tour. Most dates were with Greenland's The Maxies. The two bands fell in love with each other on stage and off. Everyone at the shows fell in love with the bands, too. It was an international love fest! Both bands put on incredible live shows. The Kingons melted minds with their power pop mod punk rock n roll and through-the-roof level of energy, enthusiasm and dance moves! The Maxies melted hearts with their power pop punk ballads, love-to-hate-'em stage antics and those oh so fabulous physiques! Plans were quickly made to bring the love fest across the sea to Japan. A record to commemorate and celebrate the majesty of such a power-house pairing had to be made and we jumped at the opportunity to do just that. This glorious split delivers 16 minutes of the most eargasm inducing tuneage of recent history. It was too much rock for a mere 7" to handle, so we upped the split to the almighty 10" format The cover art features kick ass illustration by comic artist Tom "The Cock" Cochran. You're welcome.