IAR 83 - CD/LP
Hospital Job "The Believer"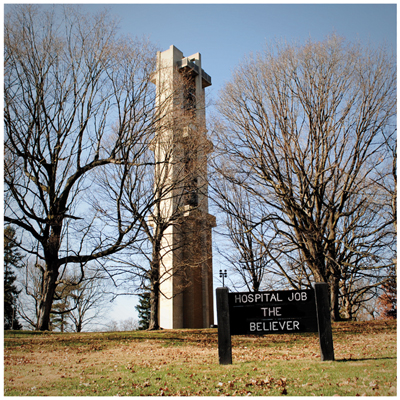 Release Date: July 2014

Test Pressing: 54 black vinyl sold as tour edition
First Pressing: 300 black vinyl, 200 blue vinyl, 1000 jewelcase CDs

Cover Art: Tim Reynolds

01 - Tell Me Four Things About Yourself
02 - Confessions Of A Former Waxdoll
03 - Times Square
04 - The Scrivener
05 - The Believer
06 - Confusing Times
07 - Nail Houses
08 - Born In A Bow Tie
09 - The Walls Have Eyes
10 - Redemption Town
11 - Meetings
A couple of years ago Luke McNeill, drummer and principal songwriter of The Copyrights, found himself living a couple hundred miles away from the rest of his band. Never a guy to suffer a shortage of songs to write or desire to play, he started another band, Hospital Job. The similarities between his two bands are easy to hear on first listen, but repeat listens reveal differences that seem subtle at first, but fairly profound after time. There is an earnestness in Hospital Job to be its own band with its own sound.

I regret not being in a position a couple of years ago to have released Hospital Job's debut album. But with a second album came a second chance to get behind this band.

The Believer is a melody-heavy, power-driven pop punk album that rides the line between the contemporary mid west pop punk sound and indie rock style of decades past. At times it charges full force into your gut with relentless hooks, at others it infects on a more cerebral level with unexpected twists, turns, repeats and breaks. The end result is one hell of a catchy album always worth starting on track one and playing straight through to the end.

Like all of McNeill's best work there exists another level to his music not readily apparent on first listen. The Believer tells a story of the fall into the world of cultism. It's so well written in its subtly that the songs seem to be nothing more than everyday songs sung about everyday life without theme or intent, but maybe that is the point exactly. After the reveal there comes another level of appreciation for McNeill's ability to craft such an album hidden so plainly in sight. I am reluctant to spoil it here in the write up, but I trust The Believer will win you over in the end regardless.