IAR 84 - CD/LP
The Mugwumps "Mutation In The Family"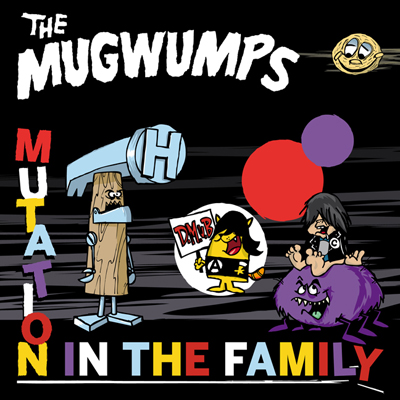 Release Date: June 2014

Test Pressing: none
First Pressing: 300 black vinyl, 500 jewelcase CDs

Cover Art: Mario O. Eberharter

01 - Just In Case You Wanna Know
02 - Your Kids
03 - Mutant Love
04 - Mutation In The Family
05 - Hold On To Your Heart
06 - What To Do
07 - The Cruel Tutelage
08 - In Your Basement
09 - Don't Wanna Know
10 - Stick With You
11 - At The Beach
12 - Rat Food
13 - Do You Wanna Kung-Fu
14 - At The Corner
The Mugwumps are back! Thought dead for years, Austria's finest pop punk band crawled out from under that rock reanimated and ready to go with their second full length album, Mutation In The Family. Their sound has indeed mutated bit since the last time we put out a record with them seven years ago. A little less frantic and a little more melodic, Mutation In The Family drops fourteen solid jams on yer head to rock out and get stupid to. The Mugwumps made and played Mutation In The Family as an homage to everything great they loved about the 90s Lookout Records pop punk catalog - from the style to the sound and even the cartoony artwork. I think their efforts were met with great success. And if you're into that good old pop punk style too, I think you'll agree.