IAR 89 - LP
Plow United "Plow United"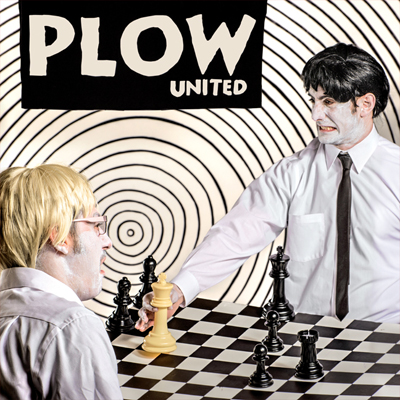 Release Date: July 2014

Test Pressing: none
First Pressing: 250 black vinyl, 250 white vinyl

Cover Art: JP Flexner

01 - Tour Guide At The Alamo
02 - Spindle
03 - Reason
04 - Plow
05 - That Girl
06 - Martin
07 - Saint Patrick's Day
08 - Poison Berries
09 - You Are Here
10 - The Prince
11 - The World According To Me
12 - The Game Of Chess
Some random day back in 1995 I walked into Vinyl Solution Records in Huntington Beach, CA to flip through all the new releases just like I did at least a few times each week. A guy working there named Mike cared to know what I liked and knew it well. On this particular random day he pulled out Plow United's self titled album and presented it to me without a saying a word. He just looked at me, then at the record and then nodded. He was usually very talkative and happy to engage in conversation about bands and records, so I took his silent suggestion straight to heart. I didn't even consider not buying that album that day. And so it goes, my life was changed forever.

Plow United's debut album opened up a world of music to me. Everything I would later come to know and love from the PA / NJ/ NY area all started here. But nothing that followed ever topped the album that started it all. This album never gets old to me. It never leaves that imaginary top 5 albums of all time list that runs through my head. It will never be old. And now it's new all over again!

I never thought that 19 years later I would be running a record label and re-releasing this classic masterpiece. But here we are and here it is. Twelve tracks of why punk rock matters to me. And if you told me it was going to be re-mastered by Stephen Egerton of the DESCENDENTS? Pssssh, yeah right!

I hope this reissue serves as much as a celebration of what's come before as it does of what's coming next. Plow United is back and there is a world full of people who need to know. If you're one of these people, this album is where it all begins for you. Enjoy!