IAR 93 - 7"
The Varsity Weirdos "EP"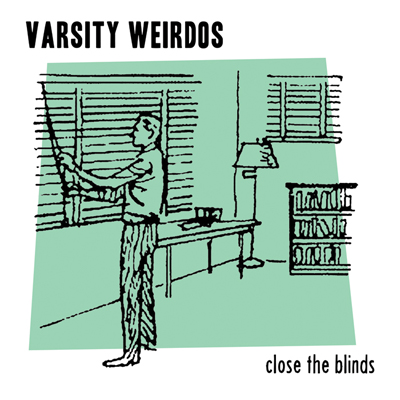 Release Date: October 2015

Test Pressing: none
First Pressing: 500 black vinyl

Cover Art: Joe Cynic

01 - Bad Nurse
02 - Tall Man
03 - This World
04 - No Life On Planet Mars
When It's Alive Records started in 2004 we wanted to put out records by bands we knew and loved. We did just that for the first year and a half, releasing a handful of EPs by some of our favorites. Right around that time, we got hit up by a guy we didn't know, in a band we had never heard or even heard of. Reason being, they never released anything at that point. We were asked if we'd be interested in releasing their debut EP. That EP ended up being our fifth release and first ever by The Varisty Weirdos. We never thought we would become a label people in bands would actually seek to be on. It just never occurred to us. Varsity Weirdos were big fans of all we had released up that point and in turn we became huge fans of their tunes. These guys have always had so much right going on for them - tight jams with super catchy hooks every time. Another thing I have always loved in a band is when it has multiple lead singers each with a significantly different song writing style and sound than the others. Varsity Weirdos got that going on for them, too.

After about ten years of being a band, Varsity Weirdos called it a day. But before parting ways they recorded four last songs that make up Close The Blinds. It's as perfect an example of that killer, classic pop punk style and sound as anything they've done before - or most other bands in the genre for that matter. It's a bummer that these may very well be their last jams together, but they go out on a high note.

It's entirely possible that It's Alive Records might have never released anything past our first four EPs if The Varsity Weirdos hadn't come knocking. We were stoked to be the first label to debut their first release, and we are honored to be the label releasing their final release all these years later.