IAR 95 - CD/LP
Gentlemen Prefer Blood "Used Books And Guns"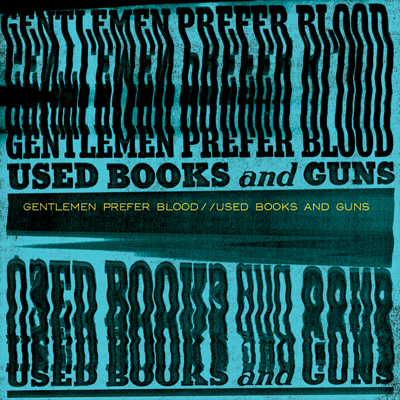 Release Date: June 2015

Test Pressing: 5 black vinyl
First Pressing: 500 yellow vinyl, 500 digipak CDs

Cover Art: Todd Smailes

01 - Diets For The Dying
02 - Makeshift Graves
03 - Back Aching For The Lash
04 - 1000 Words
05 - Slacktivism
06 - Nearly Invisible
07 - Candid Most Often
08 - Mahogany Monotony
09 - Let It Sink
10 - Paper Lions
Los Angeles based Gentlemen Prefer Blood are back with their third full-length album and first with It's Alive Records. Used Books And Guns hits the mark with smart lyrics, buzz-saw chords, raspy vocals and anthemic style that echos the sound and spirit defined by punk rock of the late 70s and early 90s. Front man Todd Smailes and bassist Dr. J have been friends since childhood and playing in bands together nearly as long. Their long time camaraderie is readily apparent in the way their instrumentation and vocals play off of one anther - never overdone and never lacking. Recently banded with the formidable skills of Michael Spaid on drums, the three-piece is able to fill the room with dynamic punk rock prowess while still maintaining that comfortable airy room to breathe - an art that all the best power trios perfect over time.