2011 News Archive
12/25/11 - End of the year 7" sale!
As 2011 draws to a close we are taking on the task of moving the IAR Headquarters to a new location. Yep, it is moving from one bedroom to another bedroom a few feet away. It'll be a pain in the ass no doubt, but it needs to happen. In an effort to thin out some of the inventory that needs to be moved we are offering up our ten oldest 7"s still available and in print for the low, low price of $20. If you missed any of these the first time around now is a great chance to catch up! If you already have some, but not all, share your doubles with friends or resell them if you'd like!

Here's a list of the ten 7"s being offered as part of the sale: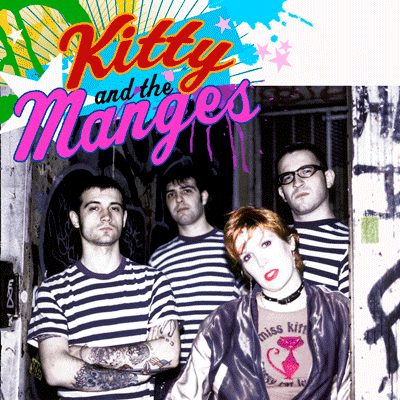 IAR 04 - Kitty & The Manges Joey's Song
IAR 11 - Retarded Gambling On Rock
IAR 26 - The Dazes / The Wimpys Greetings From Japan
IAR 32 - Barrakuda McMurder Slow Crawl
IAR 36 - The Crumbs / The Ridicules Split
IAR 37 - The Methadones Gary Glitter
IAR 38 - Sunnyside / The Legendary San Diego Chargers Give 'Em Enough Booze
IAR 39 - Festipals Gold Magic
IAR 40 - Get Bent Dead It
IAR 45 - That's Incredible s/t

Some of these are down to less than a couple dozen copies remaining before they slip into out of print status. Get 'em while you can right here on our store page.

We had a great year and hope you all did as well!

See ya in the pit... in 2012!




11/21/11 - Just another Manix Monday...
I have given up trying to keep up with it all. I just can't do it. I don't think it's so much that I am biting off more than I can chew, it's just that I can't chew fast enough! The responsibilities and work keep multiplying but there's never more than 24 hours in a day. Shit sucks! It's always last minute deadline crunch time over here at IAR HQ. I have been absolutely killing the fine folks over at Lucky Lacquers, SAMO Media and Imprint Indie Printing with ridiculously short production timelines for the past half a dozen or more releases. But they continue to amaze me with the speed and quality of the work they can and always do turn out for us. Huge thanks and props to all of them! That said, The Manix Neighborhood Wildlife CD's and LP's are very near completion as The Manix head out for their first west coast tour starting this Friday (November 25th). And for those of you wondering who The Manix are, you gotta keep up with us over on facebook and twitter, yo!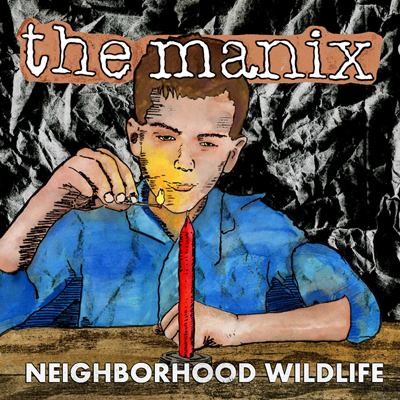 Enough is enough. Minneapolis punk bands seriously need to take a year or two off and let the rest of the country catch up with their awesomeness. It really is getting ridiculous how many incredible bands call that city home. Being the land of a thousands lakes, I gotta believe it is something in the goddamn water. Sure, many of the bands coming out of MPLS have similar sounding styles, but why is that a bad thing if their styles of choice kick my ass every time?
The Manix are the latest musical champions from this magical land to have graced It's Alive Records with the privilege to release a record of theirs. Their debut album Neighborhood Wildlife is packed with a dozen jams that absolutely kill it with every listen! The songs showcase a great mix of the shoutalong go-for-broke anthems super-prevalent in the basement scene of today's midwest and the ultra catchy head-bopping melodies that are the core of all pop punk past and present. The lyrics are smart, thoughtful and heartfelt without any hints of trying too hard to be anything they aren't. The album was mixed at mastered by Jacques Wait - the man behind the boards for many an album from other MPLS locals such as Off With Their Heads, The Soviettes, Dear Landlord, Banner Pilot and The Gateway District - so you know this shit sounds tight!
Frontdude Corey Ayd spends his time away from The Manix as a member of the professional punk rock group Banner Pilot, so there's a whole wealth of incredible music to feed off of right there. He also sings like the hell-spawn lovechild fathered by Billy "D4" Morirsette after having had his way with dreamboat Zack "Landlord" Gontard. Drummer Mike Cranberry also plays in Nato Cole's latest rock group The Blue Diamond Band and is the sweetest dude on planet earth. I don't know too much about the other Manix men Steve and Tyler other than their names combined read like Steven Tyler (fuck that guy), they look like they are in Jr. High and they play guitar and bass like total champs.
How these kids in their early 20's come off sounding like the new demigods of punk rock I have no idea, but they do... It's gotta be the fucking water!
In order to make sure everyone gets a chance to listen to this and own it (at least digitally if nothing else) before the band comes through town on tour, we have the album available for purchase as a PRE-ORDER WHICH INCLUDES A SAME DAY DIGITAL DOWNLOAD CODE. THE OFFICIAL RELEASE DATE HAS BEEN SET FOR DEC. 27th, WHICH MEANS YOU WILL RECEIVE ALL PRE-ORDERED ITEMS ON OR BEFORE THAT DATE.

Check out our bandcamp page if you'd like to steam entire album or purchase it solely in digital format! Please get viral with that link! Any and all help we can get from you from spreading the digital word about this band and this album are greatly appreciated!

Catch the men of The Manix on tour. You won't be disappointed! Keep up with their facebook updates for more tour info and details.

11/23/11 - Thanksdrinking @ The Hexagon w/ Nato Coles and MORE
11/25/11 - St Louis, MO @ Lemmons
11/26/11 - Oklahoma City, OK @ The Parkdownthestreet House
11/27/11 - Arlington, TX @ The Center House w/ Stymie
11/28/11 - Midland, TX @ The Pine Box w/ Autistic Nun
11/29/11 - Las Cruces, NM @ The Trainyard
11/30/11 - Tempe, AZ @ Yucca Tap Room
12/01/11 - Las Vegas, NV @ The Double Down
12/02/11 - Pomona, CA @ V.L.H.S w/ Dead To Me, Rumspringer, Turkish Techno
12/03/11 - San Diego,CA @ The Till Two Club w/ Dan Padilla, and 2 more TBA
12/04/11 - Los Angeles, CA @ Redwood Bar and Grill w/ Pu$$y Cow and More
12/05/11 - Ventura, CA @ TBA
12/06/11 - Bakersfield, CA @ Matty's House w/ The Blacksmiths
12/07/11 - Santa Cruz, CA @ The Blue Lagoon w/ Dun Bin Had
12/08/11 - Concord, CA @ The Red Hat w/ Civil War Rust and Dun Bin Had
12/09/11 - Berkeley, CA @ 924 Gilman w/ Whatever That Means (Korea)
12/10/11 - Portland, OR @ The Know w/ Fools Rush
12/11/11 - Seattle, WA @ Galway Arms w/ Big Eyes and Smokejumper
12/12/11 - Everette, WA @ Tony V's Garage w/ TBA
12/13/11 - Longview, WA @ Minus World w/ TBA
12/14/11 - Missoula, MT @ The VFW w/ TBA
12/15/11 - Bozeman, MT @ Zebra Cocktail Lounge w/ Takei and Hurdles
12/16/11 - Denver, CO @ TBA
12/17/11 - Laramie, WY @ 3rd St Cowboy Bar
12/18/11 - Omaha, NE @ Sandbox w/ DSM5 and TBA
12/19/11 - MPLS Homecoming @ Memory Lanes






10/31/11 - Sneak Attack!
Weekend Dads are the latest band to join up with It's Alive Records and we couldn't be happier to have them on board! And guess what? Yep, we've got their debut record release right here right now! Yet another band and another record proving that our Canadian neighbors to the north are just killing it these days... KILLING IT!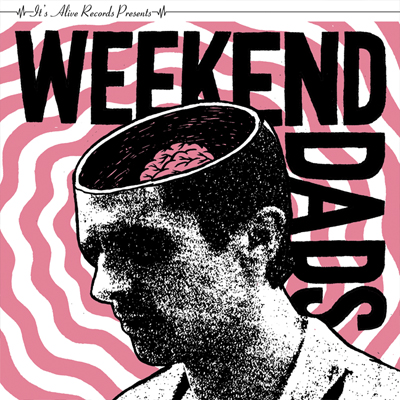 Weekend Dads get their jam on in the land that lies somewhere between the classic four-chord down-stroking pop punk of yesteryear and the shout-it-out-loud super-charged anthems of today's modern pop punkers. They've taken two subgenres that have been done to death and put them together in a style that bridges the gap between the sugary sweet and hopelessly bleak. Their debut release is by no means a reinvention of the wheel, but more like a ride through a neighborhood you've been to a thousand times before, only this time you're taking the side streets and alleyways you always overlooked. The best shit is always in places you least expect to find it... places like Moncton, New Brunswick!

First press is limited to 200 copies on opaque hot pink vinyl and 300 copies on black vinyl. All copies come with a digital download code for MP3s.

Check out the release page for a link to a stream of the entire EP on our bandcamp page. Please like and tweet it!

In addition to this newest release being available for purchase, we are running a one-day-only Halloween sale! Every record with any kind of somewhat Halloween related artwork is on sale for wholesale cost for TODAY ONLY! Stock up on some rad records you may have been sleeping on for a killer price. Again, please spread the word on facebook and twitter for us... thanks!




10/03/11 - North Sentinel Island... out now!
The Copyrights are back! Anyone who has been following this label since day one or last week can probably tell how important this band is to this label. They've always been considered the house band of sorts and we couldn't be happier about that. These guys were the defibrillator that kept pop punk from slipping off into the nothingness of bullshit music that was the early 00's and shocked that shit back to life and continues to do so to this day. North Sentinel Island is the their fifth full-length and quite possible their finest effort to date.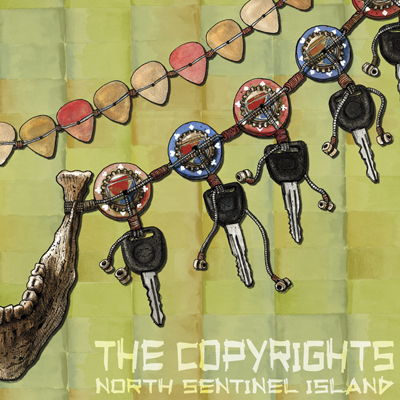 It's hard to believe it has been eight years since The Copyrights released their first album way back in 2003. Pop punk had long since burst onto the scene, into the big leagues and retreated back to the basements by then, leaving behind the last of the diehards.

Among those diehards were The Copyrights. Still teenagers then, these guys took everything good about the old style and made it new again... and better than ever. They were among the first of a few young bands to really take pop punk, turn it on its end and redefine the genre.

Eight years, a slew of singles and five full length albums later they are still at it. They continue to define and redefine the genre with each successive album. No two Copyrights albums sound exactly the same, but they are all unmistakably Copyrights through and through. Bands like this make sticking to the music you love despite all of its lows worth it every day.

North Sentinel Island is the best Copyrights album to date. But ask any Copyrights fan and they will have said the same about each new album when it came out. They aren't wrong - this band just gets better and better with each new record.

We did our best to match to the quality of the packaging with the greatness of the music. All copies of this LP were pressed on 180 gram vinyl and come in a full color gatefold jacket with amazing artwork compliments of Pete Ziegel (www.peteziegle.com). All copies come with a download code as well. And to sweeten the deal we pressed this LP one 6 different colors of vinyl! There 500 copies on black vinyl and 100 copies on five different colors - each being sold exclusively by operations that help keep us alive... Support those who support you!

GREEN VINYL - It's Alive Records (store page)
YELLOW VINYL - No Idea Records (www.noidearecords.com)
BLUE VINYL - Interpunk (www.interpunk.com - comes with free patch!)
WHITE VINYL - Hot Topic (www.hottopic.com)
RED VINYL - The Copyrights (only available at shows... already sold out!)




09/26/11 - A Perfect (shit) Storm of events has passed, but we're still alive!
Hey gang! It's been a while, I know. In the aftermath of the awesomeness that was Awesome Fest 5 way too much happened all at once on the label and home fronts. I won't bore you with the personal details (except this: I am back in school for the first time in over 10 years! WTF?) because that's what my wife's facebook page is for. But as for label news, after cranking out three 7"s and an LP just a month prior, we had two more LP's and another 7" to get out in time for fests and tours and all that good stuff. And now we finally have news for them here... Enjoy!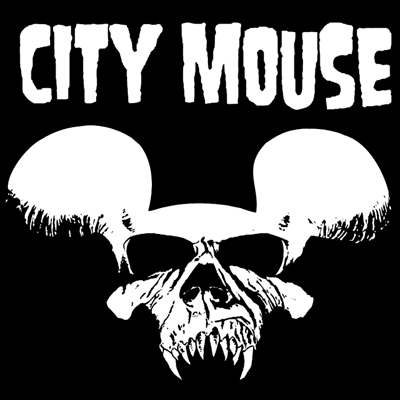 City Mouse has been kicking around for quite a few years now. Though the line-up has seen many changes over time, the awesomeness of the passionate and heavy-hitting songs has constantly been improving with each new incarnation of the band. Mainstay front-woman Miski Dee Rodriguez knows how to write a solid pop jam and can belt out the whoa-mama lead vocals like nobody's business! The four tracks that make up this s/t vinyl debut release are reminiscent of the mid-nineties pop punk rock n roll that was being played by some of the toughest ladies of punk rock from the midwest and upper south at the time - powerful, sultry lead vocals over an incredibly melodic, driving rhythm. Danzig-approved.

This is our second co-release this year with the homies over at Muy Autentico Records. Check them out if you aren't already familiar with them. They've put out some rad records including the Turkish Techno debut LP, just released this month!

First 200 copies of this 7" are on red vinyl. We've also got a t-shirt bundle pack available on the store page. All copies come with a download code. Feel free to cruise over to our bandcamp page to stream the entire release.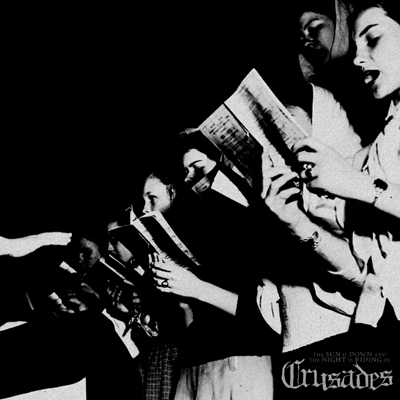 Crusades is the latest and greatest band to come out of the burgeoning underground music scene happening in Ottawa, Ontario. This record is something really different than anything we've done to date and that makes me really excited. Not to mention it is some of the absolute best music I have heard since starting this label. This is another co-release with the fine folks over at Razorcake Records. Here's what they have to say about it:

To call the Ottawa punk scene incestual makes it sound too wholesome. At this point, a band family tree would be impossible. They've crossed the line into band forest territory; new sprouts feeding off the old growth. It's a successful ecosystem inhabited by amazing musicians. At the end of the day, those people and their bands are releasing the most high quality records, per capita, in the entire world. The newest germination is Crusades' debut full-length, The Sun Is Down and the Night Is Riding In.

In my eyes, all punk worth a damn is somewhat anti-Christian, but Crusades take it to a new level. They combine their disdain for organized religion with melodies four voices deep. Crusades own the night, enlisting the unholy powers of unlikely allies like The Chinese Telephones, From Ashes Rise, and Alice Cooper.

First 200 copies of this 12" are on red vinyl with black swirls - totally wicked looking! There is also a super-pack available on the store page. All copies come with a download code. And did I mention this is packaged in a fantastic gatefold jacket? Killer release all around. Stream it in it's entirety over at our bandcamp page.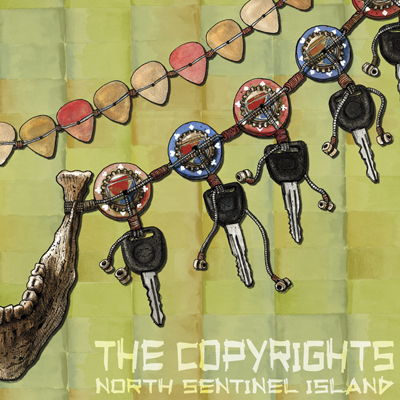 The Copyrights fifth and quite possibly finest album North Sentinel Island is the last of this batch of releases. I am going to leave this news post as little more than a heads up for next Tuesday October 4th as that's the official release date of this gatefold 180 gram color vinyl LP beast of a release!

This album was pressed on five different colors of vinyl. 100 of each color is being sold exclusively by these five places:

It's Alive Records (green), No Idea Records (yellow), the band themselves (red), Hot Topic (white), and Interpunk (blue). To be fair to all of the other sellers we aren't putting this up as a pre-order. It will go up for sale on the release date mentioned above. All copies are in hand so there won't be any delays getting these shipped out. T-shirt bundle packs will be available!

The only way to get the red vinyl version is by picking one up from the band at a show. They made their way through the midwest over the past few days just started an east coast tour today. Check the dates below and get to your nearest show before they're all gone. And hey west coast, no complaining - they had these with them for the two weeks they just did out here with Be My Doppelganger. You snooze you lose!

September 27th - Asbury Park, NJ @ Asbury Lanes
September 28th - New York, NY @ Webster Hall
September 29th - Baltimore, MD @ The Otto Bar
September 30th - Philadelphia, PA @ The Barbary
October 2nd - Montreal, Quebec @ Foufoune Electrique
October 3rd - Ottawa, Ontario @ Mavericks
October 4th - Kingston, Ontario @ The Mansion Kingston
October 5th - Toronto, Ontario @ Sneaky Dee's




07/18/11 - ...And four to go!
Hey gang! Guess what? Yep, more records! Up now on the store page are our four latest releases. You should know by now that everything we release is totally worthy of purchase, but I guess I'll tell you a little bit about each just in case you haven't figured this out yet...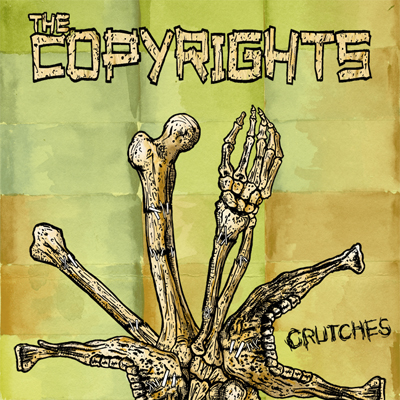 Crutches is the first single off of The Copyrights newest album North Sentinel Island. Like all of their jams it is both instantly recognizable as a Copyrights song at the same time just different enough from previous works to keep you guessing where they are going with it. Having already heard the new album, Crutches is really much more of a teaser than a indicator of what's to come. The safest bet is just to expect the best because every longtime Copyrights fan will tell you each successive album is better than the one before and North Sentinel Island is no exception to that rule. The flipside of this EP contains two demo tracks that didn't make the cut for the final recording of the new album; One a straight forward punk jam. The other a total pop ballad. A band that can nail it both ways is definitely doing something right!

First 100 copies are on green vinyl. The band will have a limited quantity at their record release shows in Chicago on August 5th and August 6th at The Underground Lounge. The only other way to snag a green copy is over on the store page. Act fast!

Redscare Records is releasing North Sentinel Island on CD and digitally August 9th. It's Alive will be handling the vinyl LP release a little later on. Keep an eye on this site and our facebook and twitter pages for pre-order updates for limited color vinyl copies! The band will have copies with them for their September tour as well. Keep an eye on their facebook page for dates. Be sure to catch a show or two! They'll also be touring out to San Diego, CA for Awesome Fest 5 with Be My Doppelganger. Do not miss these bands!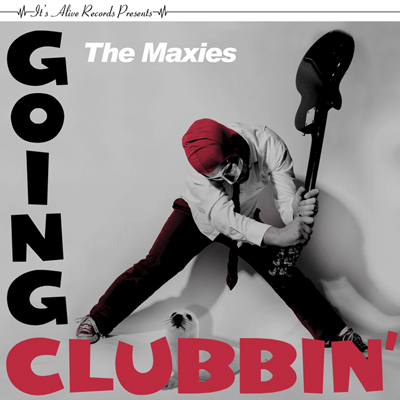 Greenland is melting! Is global warming to blame? Definitely. But it's not climate shift... it's the motherfucking Maxies! These assholes may be jerks of the highest order, but they sure know how to melt faces (and polar ice caps) with their power pop punk jams! It's Alive Records in incredibly proud to present The Maxies first domestic release, Going Clubbin'. Having already dominated the airwaves of Greenland and Iceland (Fuck those guys!), The Maxies have taken their act south in an effort to attain world domination. Their weapons of choice? Killer hooks, infectious melodies, bad attitudes and ridiculous costumes. This band's better than your band. That's all you need to know.

These bastards are currently on tour with Reel Big Fish (no, I'm not joking). They have copies of the new 7" with them on all colors of vinyl. Check out their facebook page for show dates.

100 white vinyl and 100 red vinyl copies are available for exclusive mailorder purchase on the store page.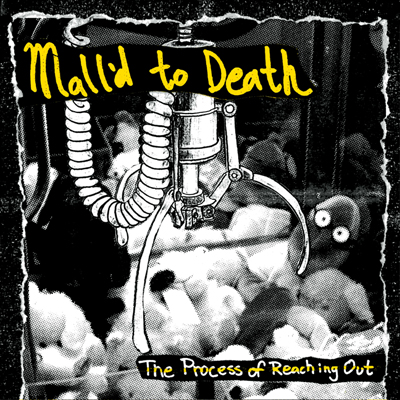 Mall'd To Death is what happens when you take that Minneapolis punk rock Dillinger-core sound, add some Jeff Ott-esque vocal growlings, mix in some mid-nineties melodic punk sound of the EpiFat variety (complete with the occasional ska-punk breakdown!), put together some meaningful songs about life and personal politics, follow those up with some silly songs about important shit like video games and graffiti, and then round it all out with some of that good ol' J Church! It's like Mall Punk if "Mall Punk" meant a little bit of everything under one roof. I was totally taken by surprise and blown away by Mall'd To Death's debut full length Can't Make A Living released last year on CD by GC Records on and then on vinyl earlier this year by Bitter Melody Records. The Process Of Reaching Out is Mall'd To Death's second release of what I hope to be many more to come. I don't know of another band out there that really sounds anything like these guys. It's fresh; and in that way reminds me of when I was first discovering punk rock!

This 7" is being co-released with the incredibly awesome folks over at GC Records. Yellow vinyl is exclusive to It's Alive and White vinyl is exclusive to GC. Both are limited to 100 copies. If you want both you'll have to order from both labels, sorry! Or you snag black, white or yellow vinyl from the band at their record release show on July 30th in Minneapolis or on tour in August. More info on all of that to follow. Keep an eye on their facebook page for info.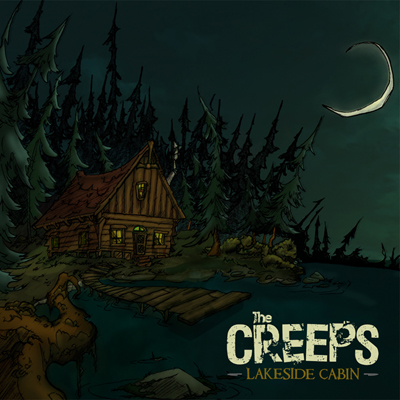 Originally released in 2008 on CD only by Black Pint Records, The Creeps Lakeside Cabin is finally getting the vinyl treatment. In addition to the new format, the already excellent cover art has been improved upon with a fantastic reworked layout. Having released three albums prior to this one, Lakeside Cabin is the album in which The Creeps really broke out of the mold they had started out in and found their own sound. You can hear the transition from old to new throughout the album. While tracks such as "Bury The Bodies," "The Creeps Are A Gas" and "Long Way Home" echo the style of The Creeps' former albums, "All The Way Home" and "Baby, Hold On Tight" showcase a much more eclectic style with the addition of strings and funky bass lines. "Voices (Again And Again)" and "Palisades" also introduce new elements into the mix in the form of acoustic guitars and those absolutely perfect sparse backing vocals. Everything The Creeps released prior to Lakeside Cabin is good, but everything released after is absolutely essential. This album is a great place to start if you're just getting into The Creeps.

All copies are on moonlit swamp green vinyl and can be purchased on the store page and from Black Pint Records, who were awesome enough to ask us to co-release this LP with them!

Check back here and our facebook and twitter pages for more info on all these releases including streaming samples (coming soon!).




06/01/11 - The Credentials on Tour
The Credentials start their coast to cast tour today! Keep an eye on The Credentials website for changes and updates. They're touring out in support of their new album Goocher, just released this past month. If you haven't picked it up yet, you should! That is, if you like doing what's good for you. Buy it here on the store page, or stream it over at punknews and be blown away! Get out to one of the shows below if you can. They're a great live band and real sweet dudes. Don't be fooled by all the crust...

6/1 - Hartford, CT w/Dead Uncles @ Whitney House
6/2 – Brooklyn, NY
6/3 – Buffalo, NY w/Unwelcome Guests, The Crack Horse @ The Last Stand
6/4 – Erie, PA w/The Steakouts, Rigged To Explode, Scrap Kids @ D-Bro's Basement
6/5 – Cleveland, OH w/The Fucking Cops, Worship This @ The Dag House
6/6 – Columbus, OH w/Delay, RVIVR, The Sidekicks @ The Bike Co-op
6/7 – Cincinnati, OH w/The Dopamines, Vacation @ Skatepark
6/8 – Dayton, OH w/Adventure, Raging Nathans, Slugging Percentage @ Josh's House
6/9 – DeMotte, IN w/Derailler @ Nick's spot
6/10 – Chicago, IL w/Canadian Rifle, Night Birds, Scabs @ Lucky Gator Loft
6/11 – Lansing, IL w/Boilerman, Nervous Passenger @ Nmadi's House of Pancakes
6/12 – Milwaukee, WI w/Nightbirds @ Ground Zero
6/13 – Minneapolis, MN w/Frustrations, Kontrasect @ Memory Lanes
6/14 – off
6/15 – Bozeman, MT w/Tomorrow We Sleep, Smokestacks @ TBA
6/16 – Seattle, WA w/Steelhorse, Ol' Doris, Random Orbits @ The Steelhouse
6/17 – Olympia, WA
6/18 – Portland, OR w/TBA @ Fuckett's
6/19 – off
6/20 – Oakland, CA w/Frigface, Huff Stuff Magazine @ TBA
6/21 – Santa Cruz, CA @ Tasha's
6/22 – San Pedro, CA
6/23 – Riverside, CA w/Turkish Techno, Retcons, French Exit @ Back To The Grind
6/24 – Tempe, AZ w/Rumspringer @ TBA
6/25 – Las Cruces, NM w/Shang-A-Lang @ Trainyard
6/26 – Midland, TX w/Autistic Nun @ The Pine Box Collective
6/27 – Denton, TX w/Stymie, Completely Fucked, The Others @ The Phoenix Project
6/28 – Oklahoma City, OK w/The Needlepoints @ Parkdownthestreet House
6/29 – Kansas City, KS
6/30 – Chattanooga, TN
7/1 – Athens, GA w/Dead Dog @ TBA
7/2 – Asheville, NC @ Green House
7/3 – Washington, DC w/Imperial Can, Fashanu, Onsind @ TBA
7/4 – Philadelphia, PA w/Cobra Lung @ TBA
7/5 – New Brunswick, NJ
7/6 – Somerville, MA w/Foreign Objects, Awful Man @ Starlab




05/23/11 - Chinese Telephones on Tour
Chinese Telephones are back out tour this month! Milwaukee's finest are heading out this week for a two week tour down to play Chaos In Tejas and then back up. Keep an eye on the Chinese Telephones website for tour info updates. The dates as they currently are planned have been cut and pasted below. If you are anywhere near the tour route, get out a to a show! Few bands can melt your face off as well as these guys will. And if you haven't picked up the third press s/t LP or collection Democracy LP yet, they've have both with them out on the road. There's still no place better to buy a record than from a band at a show.

Wednesday, May 25th - Appleton, WI
The BFG w/ Tenement and The Empty Faces

Thursday, May 26th - Milwaukee, WI
Circle A w/ Kurt Baker and Tenement

Friday, May 27th - Chicago, IL
Gator Loft w/ Tenement

Saturday, May 28th - Chicago, IL
The Empty Bottle (1035 N Western Ave) w/ the Marked Men, Toys That Kill, the Arrivals and This Is My Fist

Sunday, May 29th - Cincinnati, OH

Monday, May 30th - Carbondale, IL
TBA w/ Tenement

Tuesday, May 31st - Kansas City, MO
w/ Tenement

Wednesday, June 1st (early) - Fort Worth, TX
1919 Hemphill w/ Tenement and The Arrivals

Wednesday, June 1st (late) - Denton, TX
w/ the Marked Men

Thursday, June 2nd - San Antonio, TX
The Ten Eleven w/ Tenement, Sticky Bandits, and District Six Youth Ensamble

Friday, June 3rd - Austin, TX
Red 7 (611 E 7th ST) w/ Marked Men, FYP, This is My Fist, The Shitty Limits and The Secret Prostitutes

Sunday, June 5th - Austin, TX
w/ Ghost Knife

Monday, June 6th - Oklahoma City, OK

Tuesday, June 7th - St. Louis, MO
Rue 13 (1311 Washington Ave) w/ Origin of M and Shaved Women

The band will also have some of their Electric Man shirts and koozies hot off the presses! Until you can find a way to download a shared t-shirt, you can grab one from the store page if you're not gonna catch them on tour.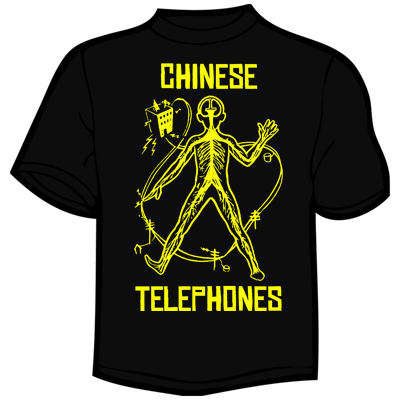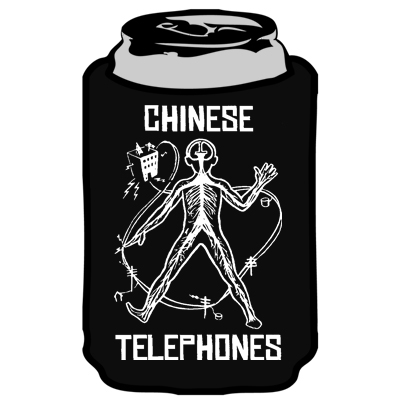 05/10/11 - Chinese Telephones and The Credentials are here... Come get some!
This month we're bringing you three LPs anyone following this label should pick up! All three are being set for official release on May 31st, which means if you order direct you records will ship on or before that date - we don't mess around!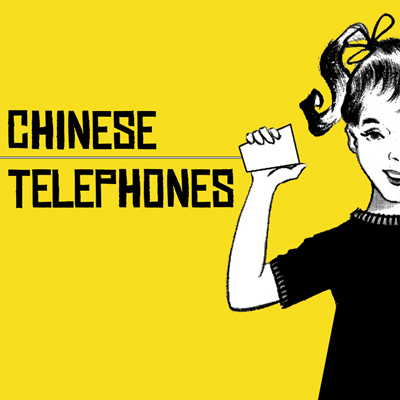 The self-titled debut album from Chinese Telephones was first released in November 2007. It was pretty much instantly sold out and repressed the following month in December 2007. By early 2008 it was gone again. The band had called it a day not long after, so we left this album out of print. A couple years later Chinese Telephones were playing some shows here and there and eventually went out for a couple of tours. Fast forward to 2010, the band was officially back to active status and has been playing out since. It seems dumb not to have this album in print for as long as this incredible band is out stoking the old fans and winning over new ones. So here we are releasing the third pressing of one of the absolute best records we've ever been lucky enough to have released. All copies have been pressed on yellow/blue split color vinyl and come with a download code. If you missed it the first time, get it now! If you already have it and want a copy that's really cool to look, go for it! This album is goddamn modern classic!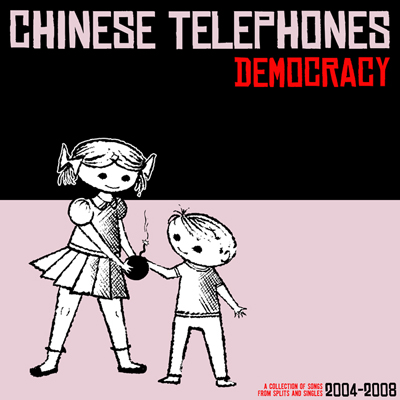 Chinese Telephones... Democracy... get it? Well, if you don't get the Guns N Roses Chinese Democracy joke in there I won't hold it against you. That piece of crap took them something like a decade to get released. So, to keep the parody of a joke as true to form as we could, we took forever and a day to get this LP out! The CD version has been out for a good long while now. If you know what's good for you, you already own it. But even if you do, you might wanna pick up this LP version. Not only does it have both songs from the Art Of The Underground Single Series 7" on it, which the CD did not, but it's also been entirely re-mastered by Justin Perkins. That dude knows what he's doing with all the switches and knobs! 150 copies of this first pressing are on pink/black split color vinyl. 50 copies will be available from the band on their tour later this month and the other 100 will only be sold here on the store page. Act fast if you want some of the pretty stuff. All copies of the LP come with a download code as well. Sorry this took forever to get out. I'm sure you'll find it was well worth the wait.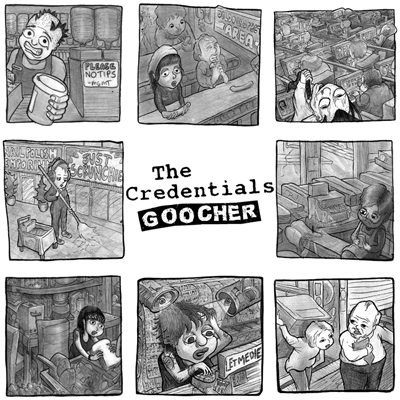 In a time when it's not only accepted but seemingly encouraged and even applauded for underground independent bands to get their music licensed for video games, car commercials, energy drink sponsorships and shit knows what else, it's nice to know some bands still stand against all that big deal bullshit. The Credentials are one of those bands. Ideals aren't dead and neither is punk. Goocher is the band's second album and it's stacked full of anthems shouted out against the bullshit we all see and deal with in day to day life. They don't get all preachy or pretentious with it either. They sing from the heart and go for the guts on every track. Musically The Credentials fall somewhere between the east bay sound of the '90s not unlike Crimpshrine and Pinhead Gunpowder and more modern bands like Chinese Telephones and Witches With Dicks. Mix all that up with a little '77 street punk style and crunchy pop punk jams and that's how Goocher is gonna rock you! All copies of this first pressing are on 180 gram black vinyl and come with a download code and a 16 page newsprint zine... gorgeous!

Goocher is being co-releasing with Dirt Cult Records, Muy Autentico Records, 86'd Records and The Credentials. Copies can be bought from all of their webstores and also from the band while they are on a coast to coast to tour during the month of July (more on that a bit later). Buy this record! It's incredible!




04/14/11 - As the ox plows so do we!
Not really known to anyone following It's Alive news - because we were keeping pretty tight-lipped about it - we have been working with the dudes of Dan Padilla and the fine folks over at Razorcake and Dirt Cult Records on a co-release of Dan Padilla's newest album As The Ox Plows. Originally slated for release last year, things fell through on the project and we found ourselves with the opportunity to get (back) on board with this album's release. We heard it back when it was recorded, but couldn't commit to its release at the time. As things turned out, we had a second chance to be part of its release and jumped at it! The fact of the matter is, seeing it go another way was a somewhat bitter pill to swallow. So we are stoked to have it back as part of our catalog or releases. This album is fantastic!!

Dan Padilla is Gene Doney, Davey Quinn, J Wang, and Matty. They live in San Diego, California and formed in 2005. Davey and J. are also in Tiltwheel. Gene's in Sunnyside. Matty's in Madison Bloodbath.

There is little (if anything at all) that I can say about music that Todd Taylor can't say better. So sparing you my feeble effort, please read what my man had to say over at www.razorcake.org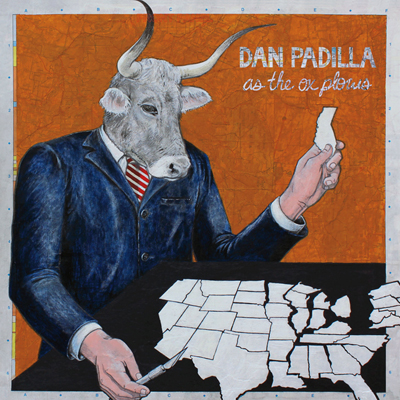 "In every town or city with a DIY punk scene, there's always a small core of people who continually get shit done. For going on two decades, members of Dan Padilla have been setting up and running shows, recording, helping touring bands with food, floors, and friendship. They've been all-around DIY ambassadors. They also all like to drink. A lot. Like "after this case and the next case, we only have three cases and a couple 750s. We're running low" drinking. This isn't boasting, competitive drinking. Often, it's not fun drinking.

Let's face it. If you're over thirty, have moved out of your parents' house, and come to realize that "anarchy!" means no bridges, public libraries, streets, or fire departments, idealism's a much harder pill to swallow; especially when you're looking at it through possible liver damage. But the dudes in Dan Padilla have fought hard to remain ethical, moral, and honest well after more vocal members of the DIY punk community have "moved on" to the comfort and status quo they once claimed to despise and swore they'd "burn to the ground." Dan Padilla just wants some public space and the freedom to play what they've created… and the cops can still go fuck themselves.

It'd be pretty hard to find four other guys whose musical self-depreciation matches their talent for rough-hewn, yet melodic music. And let's make sure we're all wearing the same watches: Dudes in this band preceded the existence of Hot Water Music, so roll any bandwagons back into the barn.

Dan Padilla play punk that could be soul. It could also be country. It's versatile. It doesn't contradict the spirit of either Naked Raygun or Otis Redding while embracing both in completely inobvious ways. It's gruff-voiced, cuddly underbelly, hard-earned DIY punk with secret, catchy-yet-twisted, and drought-hardened guitar lines that scrape the listener like running through a dense thicket of chaparral.

Burritofornia will ever be in their debt and probably won't ever know it..."

Pick up a copy of the LP and/or CD from our store page. If we are out of orange vinyl copies (or black vinyl copies), please do yourself a favor and pickup a copy from Razorcake or Dirt Cult. It was a total pleasure working with fine friends like them on this release.

Official release date is set for April 26th - same date as Gateway District Perfect's Gonna Fail. All pre-orders will ship on or before the release date! If you wanna make the smart move you'll pick up both albums. If you need more convincing, head on over to our bandcamp page to listen to both of them in their entirety!




03/28/11 - New Gateway District album pre-orders are go!
Head on over to the store page to pre-order Gateway District Perfect's Gonna Fail. All pre-orders will receive a same-day email containing a download code for the entire album. If you're not already a fan, head on over to Punknews to listen to a stream of the entire album. If you're still not a fan after hearing the album, I don't know what to tell ya. Seek help, I guess... All pre-orders will ship on or before the official release date of April 26th. The first 100 pre-orders get a shot at the baby blue vinyl only available here and from the band at shows.

The fine folks over at Punknews also premiered a video for "Run Away," the opening track from the new album. Check it out!


The Gateway District: "Run Away" from Punknews.org on Vimeo.
02/25/11 - Be My Doppelganger being Be My Doppelganger
Be My Doppelganger recorded six new super jams this past summer. We'll be releasing some of them in some way or another for sure. Check out the video they made for it. We love these good ol' boys!






02/14/11 - New records out now and coming soon!
No time for small talk. Let's get right to it!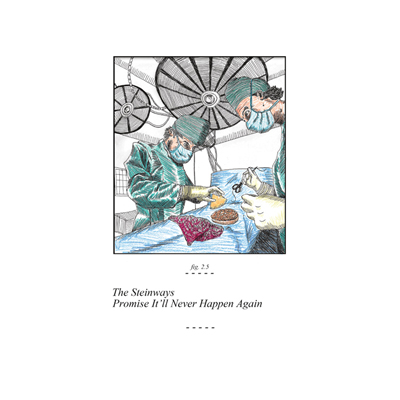 Out Now - The Steinways Promise It'll Never Happen Again
Co-released with Don Giovanni Records, Promise It'll Never Happen again is a 12" vinyl LP collection of all of The Steinways' songs from singles, splits and compilation tracks along with a couple of unreleased ditties. I am not exactly sure what The Steinways are promising will never happen again, but if it has anything to do with making, playing, recording or releasing music, I hope they are proven to be liars someday! Listening to all of these songs made me remember why I loved them so much when they were still around - they made some of the most fun and fantastic pop punk music of the past decade! Promise It'll Never Happen Again collects remastered versions of every song ever released by The Steinways that didn't appear on either of their two full length albums. If you missed the boat on The Steinways the first time around, this is the perfect place to start. For existing fans, it's a great way to remember how good you had it when they were still around.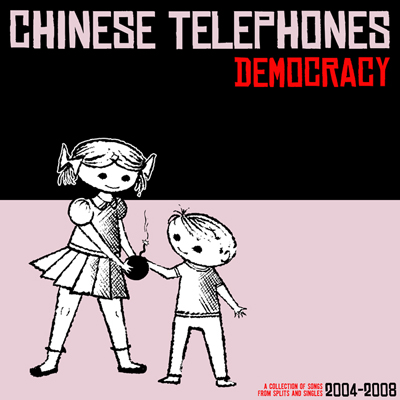 Coming in April - Chinese Telephones Democracy
Much like Guns N Roses Democracy, we've taken forever to get this one released! You can call it a lag if you want. We are calling it homage! But enough about the delay... Chinese Telephones have exactly twenty-eight recorded songs in existence - twelve from their s/t album and sixteen from the singles and splits that make up Democracy. I know I am not alone in feeling like they have had a much larger impact on the past seven years of punk rock than a mere twenty-eight songs could achieve. Actually, if you don't count re-recordings of previously released songs, they only have twenty-four songs out there in the world! I think that speaks so highly to the greatness of their music. Sometimes the best bands make up for what they lack in quantity with undeniable quality. Chinese Telephones are a rare breed of band - they don't come along often so you better keep up with them while you can. This collection will serve as a great opportunity to do just that.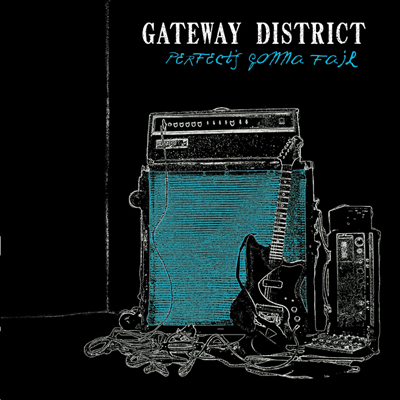 Coming in April - Gateway District Perfect's Gonna Fail
Take what works, build on it, expand on it and leave the rest behind. That's exactly what Gateway District has done with Perfect's Gonna Fail. Unlike many sophomore albums that serve as a means of expansion by way of experimentation, Perfect's Gonna Fail has taken the strongest elements of the band's debut album Some Days You Get The Thunder and doubled-up on them - The already amazing songwriting has been pushed even closer to perfection; the musicianship has been wrenched a notch tighter; the vocals are belted out with more confidence; the harmonies have multiplied and taken hold of the entire album. The end result is a focused and deliberate attempt at being the best damn album you will hear all year.

Listen to samples over at itsaliverecords.bandcamp.com

Check back weekly for updates on record release shows, official release dates, limited color vinyl pressings, pre-orders and more!




01/20/11 - This place sucks! This place sucks! This place sucks! This place suuucks!
This website is getting a face-lift as I write this. You may have noticed most of the images look all wonky and out of place. It's been a long time since we did any kind of major overhaul on this here site, but I am doing it now. I am proud that this site is total DIY fugly 'cause that's how I like it, but there have been some things I have been wanting to change forever and a day now. When all is said and done, which should be this coming week, this place should be bigger (layout and images), better (links will be more visible and outside sites will open in new windows) and just a little more fancy. In the meantime, please feel free to head on over to the store page and drop some dough on some records. That's what you're here for anyway! The completed new site will also have some news on new records and new bands joining the gang in 2011. Get stoked!