2009 News Archive
11/23/09 - Big Black Friday Sale!
Just a quick update to let you all know we will be running our first ever Big Black Friday Sale!

Starting Friday morning November 27th and ending Sunday night November 29th everything, and I mean everything we sell on our store page and distro page will be on sale for 25% off regular price!

That means all LP's will be $7.50, CD's will be $6.00 and 7"s will be $3.00. All other merch will be discounted by 25% as well.

So if you've got some holiday shopping to do, some money to blow, or you just need a new music fix, come on by! All sales will help a lot clearing out some much needed room on the racks and paying down some serious debt!




11/09/09 - The House Boat Has Landed!



Visit the store page to purchase the debut album from House Boat. You can pick it up on CD, LP or both! T-shirts are also available individually and as part of a our special Super Packs! This album will be officially released November 24th. Order it direct through us and chances are good you'll have it before the release date. After that it will be available through No Idea Records, Interpunk iTunes and more!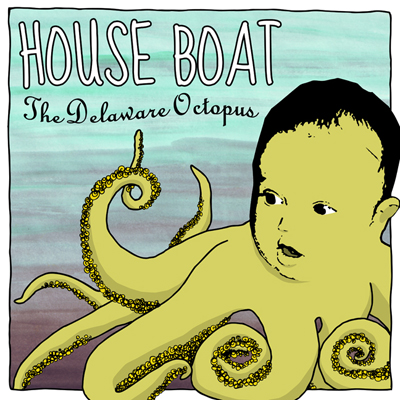 What do you get when you take Grath and Azeem from The Steinways and put them in a band with Zack Off With Their Dear Landlord Heads and Mike-d To Die Erg [SA]? House Boat, that's what you get! More specifically, The Delaware Octopus. And what's The Delaware Octopus? Shit if I know! But I can tell you it's catchy, it's clever, it's cynical and it's one of the best pop punk albums you're ever going to hear! Short, sweet and the point... whatever that point may be!




11/05/09 - The House Boat Is Coming!



So as it turns out House Boat isn't just a myth! House Boat is, in fact, a band with an album coming out November 24th titled The Delaware Octopus. An official release post will be up online this coming Monday. But more importantly, this Monday will not only be your first chance to purchase the CD and LP right here on the store page, but also your first and probably last chance to buy the limited to 50 "Tour" edition pressing of the LP!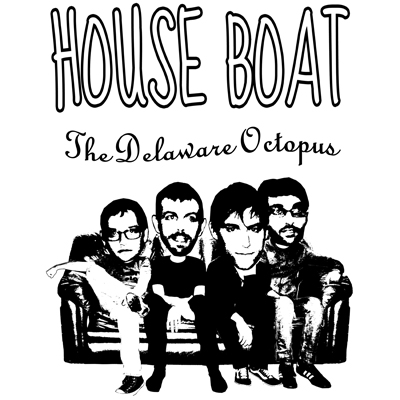 We numbered and packaged the 50 test pressings of this LP into a silk-screened felt cover complete with poster insert and heavy duty jacket. All copies are numbered as well. There are six different versions of cover/vinyl color. For more detailed info check out the release page here and check out a picture of the finished products here. These "Tour" editions will be sold on a first come first served basis starting at 12:00pm noon eastern standard time on Monday November 9th! We will only sell one per customer! Rarest versions will go to earliest orders.

Check out the House Boat myspace page to hear some songs from The Delaware Octopus.

Interpunk will be a running a contest for this release later this month. They will also have one copy of the "Tour" edition for one grand prize winner.

No Idea will be handling distribution for this record as they do with all of our releases. You can get it from them or anywhere they sell to as well.

A digital release should up and available for purchase through iTunes before the end of the year.




10/07/09 - Four New Records!
We've got four new 7"s all set for a late October release. We have them in hand and have shipped copies to our distributor, No Idea Records, which means they'll be available soon at Interpunk and other online and real world stores! We are adding them to our store page now which means direct orders are a go! Order them now and you'll definitely have them on or before the official release date of October 27th.

Writing about music sucks! It's hard to do and it seems that the better you do the worse it reads. But it seems to be necessary thing at times, and I guess this is one of them. So for what it's worth, enjoy!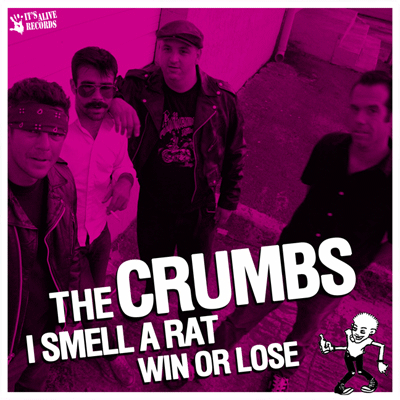 The Crumbs / The Ridicules split 7"
The Crumbs have been making noise down in Miami for 15 years now. Their unmistakable 1950's classic rock n roll meets 1970's pre-punk style has been evolving ever since. Their two tracks on this record stand up to the best the band's ever done before. A few members have come and gone over the years - on this record they are joined by Joe Koontz of Against All Authority. Making their first vinyl appearance, West Palm Beach's The Ridicules bring two tracks of a newer take on the pop punk rock n roll style to the flipside of this split. Their songs combine elements of the catchy up beat traditional pop punk sound with a healthy dose of grit and guts, not unlike a lot of the better music currently evolving up and out of the pop punk underground.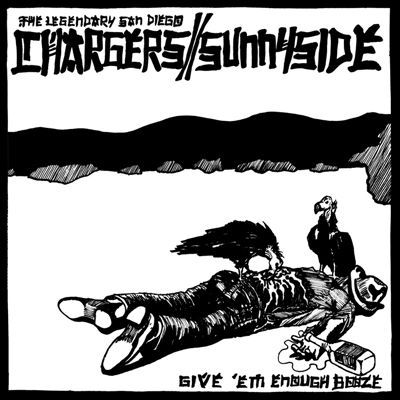 The Legendary San Diego Chargers / Sunnyside split 7"
Earlier this year San Diego's Sunnyside did a west coast tour with Minnesota's Pretty Boy Thorson & The Fallin' Angels. Pretty Boy were touring as a three piece instead of their usual five. On top of that, Brad Landlord was filling in on drums. Apparently they didn't know how to play too many PBT songs, and The Legendary San Diego Chargers were born out of the mess! If you took the country out of PBT, the punk rock core you'd be left with is exactly what TLSDC sound like - hard driving, singalong songs with a bunch of gravel in the guts. Sunnyside are everything that was and is great about the San Diego punk sound of the glory days when pop punk was big shit down there. They know how to put together a catchy tune without any of the unnecessary glitzy garbage. The vocals are unpolished and harsh at best - a perfect match for the crunchy pop punk music it fronts. This is the first of near forty releases we've put out to date with a southern California band. We were waiting for something gnarly and got just that!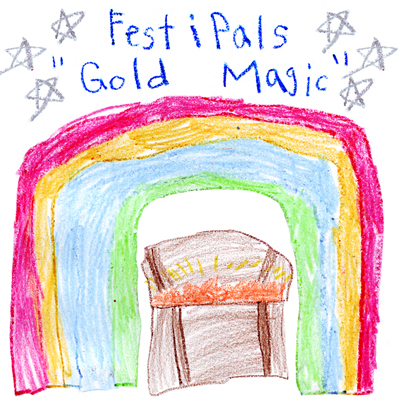 Festipals Gold Magic 7"
Festipals are four friends who get together to write and record great music to play at various festival type shows throughout the year. They are all currently and formerly in other bands including Charlie Brown Gets A Valentine, Dead Mechanical, Sick Sick Birds, Nancy and The AV Club. Each member brings something special to the band that can be found in the tunes of all their other bands, but when combined with one another as Festipals it makes for something all together different and its own special kind of awesome. A super group by any other name is still a super group, so call it what you will. Up until this record they only had a few self-released cd-r's which were all given away and traded for beers at shows. Catch 'em live and I bet you this 7" will cost you no more than a cup of whatever's on tap.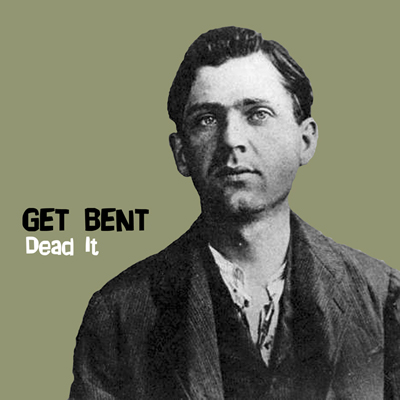 Get Bent Dead It 7"
Get Bent seem to draw their sound from a wide, varied pool of influences. So much so that it's hard to very clearly identify and pick out any of them much less all of them. They certainly haven't reinvented the wheel, but maybe they've just crafted a sound so much their own that they are their own biggest influence. The three tracks that make up Dead It are the last Get Bent ever recorded. There's a pretty big and constantly growing scene in and around New York city with a ton of bands making great music. Andy, Jared, Mike and Gerge have probably played in half of them. Get Bent will be missed.

Listen to songs from each release at the It's Alive Records myspace page here. All of the bands are in our top friends, so click through to their pages as well for more great tunes!




09/30/09 - The Dopamines European Tour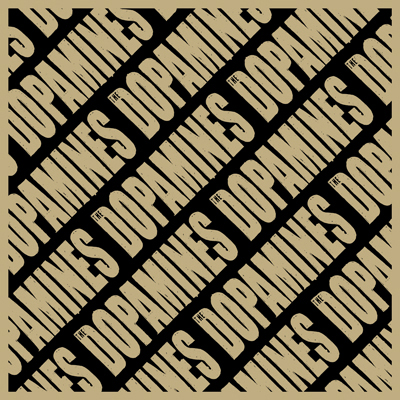 The Dopamines are heading out for their first tour of Europe. They probably won't be invited back if they behave like they do here in the states. So if you have a chance to see them, do it! Then when they get back the US they'll be heading straight to Florida to play a couple shows at The Gainesville FEST 8. Hit up their merch table during this tour to pick up the second press LP of their debut s/t album. These won't be available for purchase anywhere else until early November!
Check out the releases page for more info.


Sept 30 @ Eric Ruths Youth House / Hogana, Sweden
Oct 1 @ KB Vinyl Baren / Malmo, Sweden
Oct 2 @ Lades Kælder / Copenhagen, Denmark
Oct 3 @ K.V.U / Berlin, Germany
Oct 4 @ Hangemenge / Ranthenow, Germany
Oct 5 @ Café Sputnik / Muenster, Germany
Oct 7 @ The Bla / Bonn, Germany
Oct 8 @ DB / Utrecht, Netherlands
Oct 9 @ JH't / VerschilHerenthout, Belgium
Oct 10 @ Jugi Gundeli / Basel, Switzerland
Oct 11 @ Blue Rose / Milano, Italy
Oct 12 @ Associazione Culturale Babazuf / Ancona, Italy
Oct 13 @ Lucrezia Pub / Genova, Italy
Oct 14 @ Sabotage Bar / Vizenca, Italy
Oct 15 @ Parco Ex-Tiro Al Volo / Bagnaria Arsa, Italy
Oct 16 @ Latte / Brescia, Italy
Oct 17 @ Jailhouse / Innsbruck, Austria
Oct 18 @ TBA / Valence, Austria
Oct 19 @ La Cantine / Paris, FR
Oct 20 @ TBA / Caen, France
Oct 21 @ La Chimere / Lille, France
Oct 22 @ TBA / Usti Nad Labem, Czech Republic
Oct 23 @ The Watt / Rotterdam, Netherlands

Oct 29 - Fest 8 Pre-show @ The Basement House / Tampa, Florida
Oct 30 - Fest 8 / Gainesville, Florida
Oct 31 - Fest 8 / Gainesville, Florida
Nov 1 - Fest 8 / Gainesville, Florida




08/21/09 - The Gateway District West Coast Tour



Minneapolis, Minnesota's The Gateway District are doing their first west coast tour with hometown pals Pretty Boy Thorson. The tour will include stops at the Thrillhouse Records Fest in San Francisco and the North Park Awesome Fast in San Diego. If you're anywhere near these stops, go see a great band while you've got the chance! Not sure how often they'll be out west...

Aug 22 2009 @ The Morgue / Seattle, Washington
Aug 23 2009 @ Galway Arms / Seattle, Washington
Aug 24 2009 @ The Know / Portland, Oregon
Aug 25 2009 @ House Show / Portland, Oregon
Aug 26 2009 @ Downtown Eatery / Redding, California
Aug 27 2009 @ Plea for Peace Center / Stockton, California
Aug 28 2009 @ TBA / Santa Cruz, California

All Dates below with Dan Padilla and The Dukes of Hillsborough

Aug 29 2009 @ Thrillhouse Records / San Francisco, Caifornia
Aug 30 2009 @ Generator Day Show in Oakland / Oakland, California
Aug 30 2009 @ Kimo's / San Francisco, California
Aug 31 2009 @ Haussler House / Davis, California
Sep 1 2009 @ KDVS Radio Show / Davis, California
Sept 2 2009 @ Harolds / San Pedro, California
Sept 3 2009 @ Characters / Pomona, California
Sept 4 2009 @ North Park Awesome Fast / San Diego, California
Sept 5 2009 @ North Park Awesome Fast / San Diego, California
Sept 6 2009 @ North Park Awesome Fast / San Diego, California




08/10/09 - No Idea Distro and More New Records!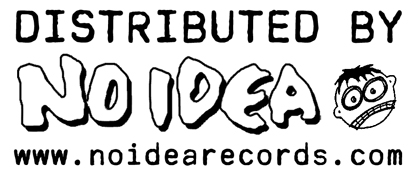 Hey Gang! There's been a lot going on over at IAR HQ. Our biggest news is that we recently got picked up for exclusive distribution by No Idea Records. We view No Idea as the biggest of the truly independent labels still running and the best, most expansive direct mailorder in the game. In addition to releasing their own records and selling everyone else's online, they distribute a handful of labels releases to stores, other distros and mailorders all over the world. We are super stoked to be part of the group which includes Recess, Dirtnap, Kiss Of Death, Don Giovanni, 1-2-3-4 Go!, Fast Crowd, Salinas and more! So if you're looking to pick up some of our titles, please contact No Idea. Or if you want your local record store to start carrying our releases, tell them to get 'em from No Idea!

In addition to making It's Alive titles more widely available through the distro, they can also be purchased directly through the mailorder at www.noidearecords.com and the It's Alive Records page at www.noidearecords.com/labels/itsalive. In some cases you might even be able to get our records cheaper from them than you can direct from us! So check it out and help support one of the operations that supports this scene we all love so much.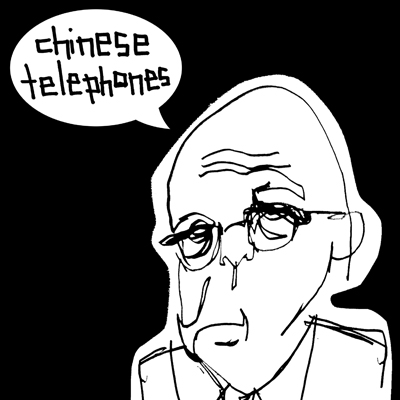 To commemorate the occasion, we pulled some totally No Idea style antics on the fourth pressing of the Chinese Telephones / Dear Landlord split 7". It's been repressed on eight different colors of vinyl and comes with new cover art as well. If you missed it the first three times or are in need of a fourth serving, pick it up while you can. This one has a habit of selling out fast.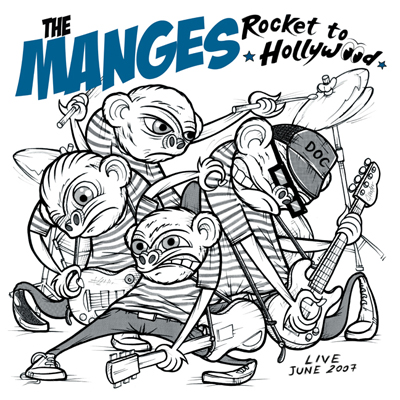 Long overdue, we are excited to finally bring you The Manges Rocket To Hollywood LP. This live album is and will only be available on this one vinyl pressing. There won't be a CD or digital release at the band's request. Rocket To Hollywood was recorded during the summer of 2007 at Safari Sams in Hollywood, CA while on their third tour of the states. It was a great show start to finish and this recording captured the fun-loving spirit of the night perfectly. This was co-released with Cheapskate Records (USA), Peabrain Records (Denmark) and Squinty Joe Records (United Kingdom). If you're closer to one of these labels, please save yourself some shipping money and pick it up from them!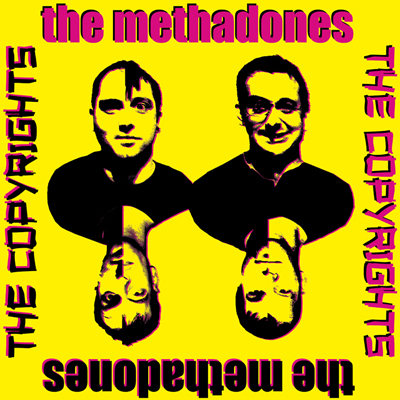 Even longer overdue, we're happy to be releasing the fantastic split LP by The Methadones and The Copyrights which was released last year on CD only. Six songs each from two of today's greatest bands together on one record. That makes for a dozen reasons why this is one of the best splits ever! The Methadones and The Copyrights do Illinois proud on this collaboration - it's north meets south with awesome results. We teamed up with Underground Communique Records on this release. You can purchase it from them as well.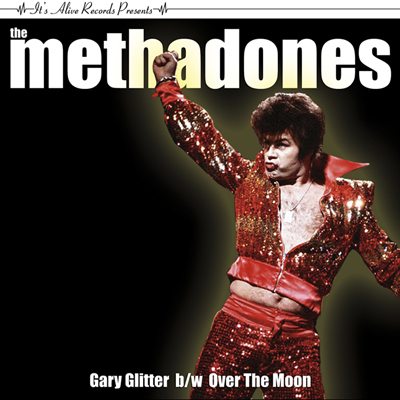 And last but certainly not least we bring you the first 7" ever by the mighty Methadones! Gary Glitter picks up right where their 21st Century Power Pop Riot album left off with an ode to the king of glam himself. The flipside of the ep features the straight up pop punk gem "Over The Moon." Few people can write a song as catchy and perfect in its simplicity as front man Dan Schafer. This 7" is also available on a limited to 100, hand-numbered, red vinyl pressing exclusively sold at Interpunk. It's currently the number one selling 7" over there, so don't hesitate to pick one up before they're all gone!


For more info on these new releases and everything else we've ever put out, please check out the releases page! And for some sounds, head over to our myspace page. Check out all the links to our bands pages in our top friends to hear more tracks from each of them while you're there.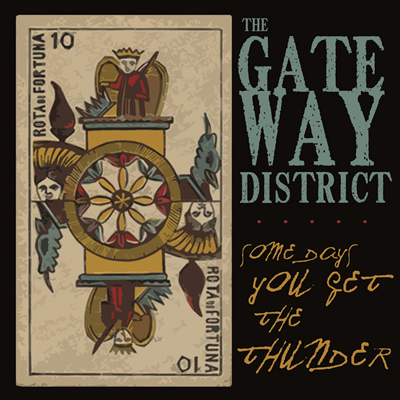 And for those of you that haven't picked up The Gateway District Some Days You Get The Thunder, you can stream the entire album over at Punk News. If after hearing if you still don't pick it up, I don't know what to say... This is one of the best albums that will be released this year if not this decade. If you live on the west coast keep an eye on their myspace page for west coast tour dates happening this September! There's also a little interview with them up on AMP Magazines website you can check out here. There will be a full length interview with them in the next print issue to hit the racks next month.


As crazy as it sounds, we've got five more records lined up for release a little later this year! Keep an eye on the website and our myspace page for updates. We're going to try to get an email newsletter together as well. So keep an eye out for that too.




06/30/09 - Distro update...
Time for another Distro update. We got a bunch of great restocks and new stuff from some our favorite label buddies. Check it out!

ADD Records
Madison Bloodbath Gittin' Loose With CD
Off With Their Heads / Dukes Of Hillsborough split 7"
Pretty Boy Thorson & Friends Howling! 7"
Pretty Boy Thorson & The Falling Angels / Cortez The Killer split 7"
Pretty Boy Thorson & The Falling Angels Ain't It Funny CD
Pretty Boy Thorson & The Falling Angels Take It Easy CD
Shaking Hands s/t CD
Stranded Broken Bottles And The Way We Live 7"
Tim Version Prohibition Starts Today LP
Vena Cava / Sick Sick Birds split 7"

Cabana 1 Records
The Bugs s/t 7"
The Challenged Relapse CD

Deadbroke Records
Down In The Dumps Dumps Luck LP
Dragonzord Hole World 7"
Fellow Project The Buried Life CD
Go Sell Drugs American Handjob CD
Shang-a-lang / Jonesin' split 7"

Dirtnap Records
The Ergs Hindsight is 20/20 My Friend CD
Marked Men Ghosts CD
Mean Jeans License To Chill 7"
The Riff Randels Doublecross CD
Something Fierce There Are No Answers LP

Dirty Witch Records (France)
Mcrackins / Los Di Maggios split CD
Sons Of Buddha Buddha Hates Us All CD/LP

Don Giovanni Records
Dustheads Collected Sounds CD
For Science Revenge For Hire CD
For Science Way Out Of Control LP
For Science Tomorrow's Just Another Day LP
Groucho Marxists Manifesto LP
Hellhole Uppers 7"
Measure [SA] Songs About People... LP
Pregnant Wanna See My Gun? 7"

Dumb Records (Japan)
The Headbangers Meet The Headbangers CD
The Kobanes Public Affection CD
So-Cho Pistons s/t CD

Eat Shit And Die Recordings (Canada)
The Blame Its / The Old Wives split 7"
The Jolts Born Speedin' 7"

Knowhere Records
The Jizz Kids / The Guts split 7"
Lawyer Beaters Waited Enough CD
Meat For Dogs Il Diario Di Sheena LP
The Rydells Vow To Defend CD
V/A Let's Go Ghoulie - A Tribute To The Groovie Ghoulies CD

Making Believe Records (Italy)
Cani Pazzi / Lobello split 7"
Darlington / Teenage Bubblegums split 7"
Devastated s/t CD
Kill That Girl We Wanna Be Monkeys CD
Los Di Maggios / Teenage Gluesniffers split 7"
Maradonas Qualcosa Da Dire CD
Out Of Tune / The Cunninghams split CD
Ponches / Deans split CD
Teenage Bubblegums Bubblegum Dreams CD

Merman Records (Canada)
PG-13s Get Back 7"
V/A Sea Creatures vol.1 7"

Muy Autentico Records
Dude Jams / Rumspringer split 7"
Jonesin' / Dude Jams split 7"

No Breaks Records
Full Of Fancy Sweet Baby Jesus LP
The Prozacs Playing The Chords We Love LP
Revolutionary Youth Bleed/Decay LP

Sandwich Man Records
Chinese Telephones Democracy CD

Snuffy Smiles (Japan)
The Centerhits City Girl Friend 7"
Gleam Garden / The Tim Version split 7"
Pear Of The West Passed Out The Wasted CD
Your Pest Band / The Centerhits split 7"

Toxic Pop Records
Dead Mechanical Binghamton Calling 7"
Dead Mechanical Medium Noise CD/LP
Sick Sick Birds Heavy Manners LP

The Creeps - awesome Canadian pop punkers!
Lakeside Cabin CD, Back To The Bin CD, These Walls 7", and The Visitors (members of The Creeps) Lost On The Globe CD

And if you haven't noticed already, the Distro section now has Print Zines and Xerox Zines. Check it out!

We also got a re-up on Barrakuda McMurder Slow Crawl 7"s! If you ordered in the past two weeks your order was delayed a bit, but has been sent out!

The Dopamines s/t LP has sold out and is temporarily out of print. We're fixing that though. We're pressing another 250 copies for their European Tour coming up this Septemeber. The packaging will be of the ghetto-fabulous variety: silk-screened fold-over covers, mixed color vinyl.




05/29/09 - Distro additions, It's Alive goners...
There were a bunch of great new additions add to the distro section of the store today from Cold Feet Records, Traffic Street Records, Squinty Joe Records, Surfin' Ki Records and House Party Records... Get Some!

Andrew Jackson Jihad / Apocalypse Meow split 7" - another winner from Andrew Jackson Jihad
Apocalypse Meow / Rational anthem split 7" - members of Off With Their Heads
Dangerous Chickens Shark Attack 7" - members of The Manges
Dead Mechanical / Full Of Fancy split 7" - two great bands, 3 great songs
Dopamines Soap And Lampshades 7" - definitely one of the best 7"s to come out this year
Fracula Music For Derelicts 7" - Italian indie pop punk
Grizzley Ends The Unfortunate Demise Of... 7" & CD - fantastic UK pop punk!
Hextalls Call It A Comeback LP - back in stock!
Marianne Dissard / Desing split 7" - acoustic indie slow jams
Moto No Way Street 7" - lofi Italian punk rock n roll
Rational Anthem / Strait A's split 7" - Florida pop punk meets Minnesota pop punk
Rumspringer s/t 10" - one of the best up and coming bands doing the passionate punk thing
Rumspringer / Sleep Like A Log split 7" - two more great bands digging out of the underground
Turkish Techno / Troublemake split 7" - one of CA's best new bands and Tst Sam's rad band
Vapids The Point Remains The Same 7" - brand new songs from Canadian pop punk veterans
Vapids Charm School Dropouts LP - out now for the first time on vinyl!
Visitors Tropic Of Cancer 7" - fantastic Canadian group with members of the Creeps
V/A Dangerous Intersections 3 7" w/ Closet Fairies, Apocalypse Meow, Dopamines & Todd C.
V/A Dangerous Intersections 4 7" w/ Strait A's, Like Bats, Rumspringer, Barrakuda McMurder

Also, we're getting really low on some It's Alive releases. If you've been waiting on any of these, wait no longer!

IAR16 - Fear Of Lipstick Indie Band - just sold our last copy! Try Interpunk or Vinyl Collective
IAR19 - The Mugwumps Do Time - less than 30 copies left! Won't be repressed
IAR20 - The Steinways Unoriginal Recipe - less than 50 copies left! Won't be repressed again
IAR25 - The Dopamines s/t LP - less than 5 copies left! Won't be repressed anytime soon
IAR26 - The Dazes / Wimpys Greetings From Japan - less than 50 copies left! Repress is likely
IAR27 - Varsity Weirdos High School Teen Party - less than 5 copies left! Won't be repressed
IAR29 - The Copyrights We Didn't Come Here To Die - less than 30 copies left! Repress is likely
IAR32 - Barrakuda McMurder Slow Crawl - less than 5 copies left! Repress is likely

Copies of Barrakuda McMurder Slow Crawl can still be bought from House Party Records!




05/22/09 - The Gateway District
Two summers ago Dear Landlord came out west for the first time. On their merch table at their show at the Awesome Fest in Riverside, California. Brad "Half Pint" had copies of a 4 song 7" by his latest band, The Gateway District. It was, without a doubt the best 7" that came out that year. I told Brad and fellow former Rivethead bass man Nate that if they ever wanted to do another record that It's Alive would love to do it. We were hoping for a 7" and got the incredible news that they were recording a full length instead. When asked if we'd be into it, you better believe we were! I didn't need to hear song one before knowing it was gonna be awesome - and so it is! This is likely to be considered by many the best record It's Alive has ever put out - and they're probably right!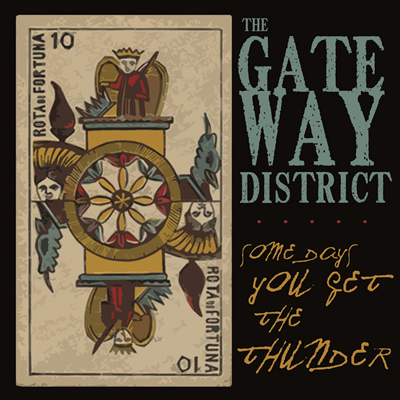 Available now for pre-order in the store page, The Gateway District Some Days You Get The Thunder. 13 songs of punk rock served straight up, country fried and even a little folkified. Check out song samples at our myspace page and the The Gateway District myspace page.

Pre-orders will begin to ship when the album is officially released on June 30th, 2009. If we get them sooner, you'll get them as soon as we do! CD's, LP's, T-shirts and Super Packs are all available for pre-order.

The Gateway District is one of the latest and definitely greatest bands to come out of the Minneapolis, MN scene. Members include Maren (of the Soviettes and Salteens), Carrie (of American Monsters and Salteens), Brad (of Dear Landlord and Rivethead) and Nate (of Banner Pilot, OWTH and Rivethead). Call it a super-group, a side project or whatever you want. All three song writers bring a style of their own to this album making for a great mix of character and approach from song to song. The artwork is fantastic and something you should care to own - 16 page full color booklet. Each band member contributed art for each of their songs, so again, three styles come together to make for an awesome whole. Some days you days you get the thunder... This is gonna be one of those days!



The Gateway District will be doing some touring in support of the album. They will have CD's of Some Days You Get The Thunder for sale at all dates! Catch a show if you can!

** All dates with Banner Pilot and The Manix **

Thursday May 21 - Minneapolis, MN
Getthefuckouttamyhouse w/ Dopamines, Pretty Boy Thorson, Brickfight, Straight As

Friday May 22 - Cedar Falls, IA
1108 House w/ Quick Fix

Saturday May 23 - Chicago, IL
Windy City Sound Clash @ Reggie's

Monday May 25 - Columbus, OH
Monster House w/ Dopamines, Fop & The Dandys

Tuesday May 26 - Dayton, OH
Dayton Dirt Collective w/ Dopamines, Black River Falls, Raging Nathans

Wednesday May 27 - Cincinnati, OH
Bikehaus w/ Dopamines, Till Plans

Thursday May 28 - St Louis, MO
Tip Top w/ The Humanoids

Friday May 29 - Oklahoma City, OK
OKC Infoshop w/ Needlepoints

Saturday May 30 - Des Moines, IA
Haunted Basement w/ Tyborn Jib, Steve Martin Memorial Service



The Dopamines are also touring coast to coast! Don't miss out on their live show! They're one of the best bands going these days. Catch them at the places and dates below:

May 11 - Phoenix, AZ
Trunk Space w/ Brickfight, Rumspringer

May 12 - San Diego, CA
Radio Room w/ Brickfight

May 13 - Pomona, CA
Characters w/ Brickfight, The Maxies

May 14 - Los Angeles, CA
Juanitas w/ Brickfight, The Uglysticks, Regal Beagle

May 15 - Berkeley, CA
924 Gilman w/ Brickfight, Canadian Rifle, Anchor Down, Emily's

May 16 - Portland, OR
Mafia House w/ Brickfight

May 17 - Seattle, WA
The Funhouse w/ Brickfight

May 17 - Seattle, WA
FBK House w/ Brickfight, Mark Sparkles

May 18 - Spokane, WA
The Boulevard w/ Brickfight

May 19 - Bozeman, MT
The Filling Station w/ Brickfight

May 20 - Minot, ND
Pangea House w/ Brickfight

May 21 - Minneapolis, MN
Getthefuckouttamyhouse w/ Brickfight, Straight A's, Banner Pilot, Pretty Boy Thorson

May 22 - Chicago, IL
Windy City Sound Clash

May 23 - Chicago, IL
Windy City Sound Clash



We're always adding to the distro! We just got in a bunch of releases from Team Science and House Party Records including 7"s, 12"s and CD's from these bands: Cutman, Dance Of Days, Ghost Town Trio, The Hextalls, Overdose, Lie And Wait, O Pioneers, Papermoons, Teenage Kicks and The Visitors.




04/27/09 - Three new 7"s and more on the way!
With getting laid off a few months ago and a baby on the way any day now you'd think it'd be a bad time to be putting out a bunch of records. And you might be right! We're really testing our label's strength to see if it can sustain itself with enough sales income to pay off current projects fast enough to keep us out of bottomless credit card interest holes and bring in the funds for future projects. If all goes well you can expect 2009 to be the biggest and best year for It's Alive so far! And if it doesn't, shit, I guess I'll be selling oranges on the freeway off-ramps.

Our next three records are set for a May 12th release, but all are available for ordering on our store page now! Chances are good that they'll ship before the official release date if you order direct from us. No Idea, Interpunk and Vinyl Collective will all have them in time to sell for the official release date as well.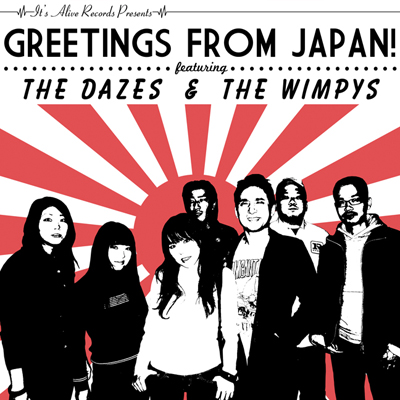 First up and long overdue is Greetings From Japan, a split 7" with our two favorite Japanese pop punk bands The Dazes and The Wimpys. If sugary sweet bubblegum pop punk or boogie woogie rock n roll is your thing, then this 7" is for you. The Dazes and The Wimpys have been doing their thing for the better part of the last decade. There are a healthy amount of bands in Japan doing this and other over-the-top pop styles, but none do it better than these two. Japan has been really good to It's Alive Records since the start. It's one of the few places that never gave up on traditional pop punk. We're stoked to finally be releasing a record with some bands from Japan. Check out the distro section of our store page for other records from these two as well as Hirocky T. Wimpy's label Popball Records.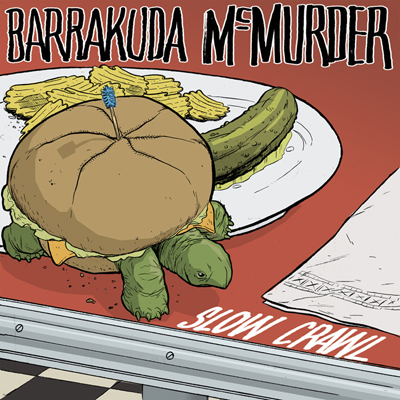 Next up we have Barrakuda McMurder with their debut release Slow Crawl. This is Grath Madden of The Steinways first band and first release since the unfortunate end of The Steinways. If you were a fan of his past material you're sure to love this new ep. The melodies and harmonies are back in full force as well as the shitty attitude. The songs are still about love and all that junk, but they read a little more personal than before. A great first release from a new band showing lots of promise... If you're into this kinda thing, which we are! This was co-released with our new buddies at House Party Records out of Nova Scotia, Canada. It's the first of a few co-releases we have planned for later dates. Call this one a honeymoon.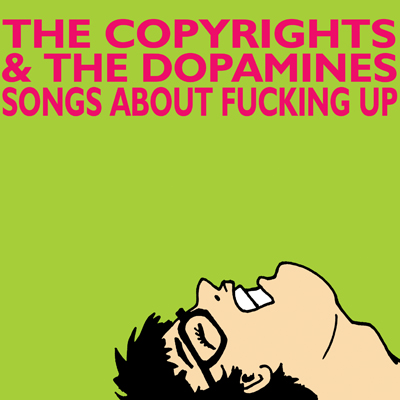 And finally we have Songs About Fucking Up, a split 7" with The Copyrights and The Dopamines - two of the very best bands the underground has to offer in the way of melodic pop punk rock. At some point the new-school becomes the old-school, or at least the not-so-new-school. The Copyrights were the new kids on the block seven years ago when they got started, but today have become a band that is inspiring newer, younger acts. The Dopamines are undeniably one of these bands. This ep showcases both bands at their very best doing what they do best - singing about fucking up!


Check out The Dazes, The Wimpys, Barrakuda McMurder, The Copyrights, The Dopamines and It's Alive Records myspace pages for songs samples from all these releases.

Our next three releases will be The Manges Rocket To Hollywood LP, The Methadones / The Copyrights split LP and The Gateway District Some Days You Get The Thunder CD/LP. Check out the releases page for more info on each. We're shooting for a June release for all three with more news to come soon! In the meantime check out the The Manges, The Methadones, The Copyrights, The Gateway District and It's Alive Records myspace pages for song samples from each!




03/19/09 - Contest winners, Zines, Fests, Records, oh my...
Interpunk recently ran a promotional contest for the vinyl release of The Copyrights We Didn't Come Here To Die album recently released by us and Insubordination Records. The winners have been chosen and here they are:

Grand Prize Winner
Sarah Patton - Chapel Hill, NC

Four Runner Ups
Daniel Jones - Portland, OR
Matthew Trimm - Orlando, FL
Kerry Boone - Fairmont, WV
Chris Chambers - Seattle, WA

Congratulations to you all and thanks for entering! Your prize packs have already been shipped out.

Poison Heart Zine out of Italy just released a new issue with an It's Alive Records interview. It's a great zine that we are always happy to send records to. They keep their zine up online but also run a print version! They cover all the great pop punk stuff happening both here and in Europe. Check them out sometime. They only downside, most of it is in Italian! So if you don't read Italian, I suggest checking them out online and using the google translator function.

If you haven't heard already, there's a great three day fest happening in Chicago May 22, 23 and 24 called The Windy City Sound Clash. A handful of It's Alive bands will be playing alongside a bunch of other heavy hitters. If you can make it, I highly suggest doing so. Sadly, we won't be able to make it out this year. But hopefully it's a big enough success to happen again next year!

It looks like the dates for the Insubordination Fest have been officially set for June 25, 26 and 27. The official band line up hasn't been listed yet, but keep an eye on the myspace page for announcements. We've had the pleasure of attending all three years of this one so far, but we're not sure if it's gonna happen for us again this year. We'll see. It's the best time of the year, so if you can make it, do it!

Finally, new distro items you should check out!

The Visitors Lost On The Globe CD - features Scott of The Creeps, one of Canada's finest bands
Teenage Bubblegums Bubblegum Dreams CD - the title says it all, Italian sugar overload
Ponches / Deans split CD - a nice pop punk split from Italy's Making Believe Records
Down In The Dumps Dumps Luck LP - my pick of the bunch this time around, dirty pop punk rock
Accelerators s/t LP - the euro scene's biggest export in a while, now available here on vinyl
Dead Mechanical Medium Noise LP - fantastic album from one of the best bands this decade
Darlington / Teenage Bubblegums split 7" - more bubblegum with the one and only Darlington
Dragonzord Hole World 7" - chill out with this record from Dead Broke Records
Shang-a-lang / Jonesin' split 7" - two of today's best doing the dirty pop punk thing, great split
Psyched To Die Sterile Walls 7" - thrashy hardcore from former Ergs and For Science
Dead Mechanical A Great Lie 7" - maybe the best 7" released in all of 2008




03/12/09 - Distro Overload, Get Some!
We recently received a bunch of great records from great labels run by good dudes. Check out the distro section for all the goodies from the likes of ADD, Art Of The Underground, Asian Man, Bitchin' Riffage, Dead Broke, Dirt Cult, House Party, Killer, Let's Pretend, Traffic Street, Stardumb and Squinty Joe.

7"s
Be My Doppelganger Convertible Girls - One of the best bands around, fantastic packaging
Brokedowns / Sass Dragons split - Some of the best heavy hitting shit I've heard in a long while
Brokedowns / Turkish Techno split - Chicago meets Southern California with awesome results
The Chromosome / Tarjas split - Italy meets Finland and great pop punk happens
Full Of Fancy / Screaming Femailes split - Females representing better than ever these days
Get Bent s/t - First recording and last record from this short-lived giant, so incredibly good
Pretty Boy Thorson Howling! - Broken down old style country jams without corny pretense
The Side Project New Brain - Great new pop punk outta the midwest where it's done best
Unwelcome Guests The Painter - Stripped down indie pop the kids are digging on these days
Unwelcome Guests / Saint Sweetheart split - Two of the best bands doing the indie thing
V/A Come And Take It - Blotto, Conniption Fitts, Sass Dragons, Prohibition battle royale
V/A Dangerous Intersections II - Basement Black, Dead Mechanical, PBT, The Mesure [SA]

12"s
Blotto Get On Bored - Japan's most Gainesville band doing what they do best
Gordon Gano's Army s/t - One of the UK's best indie pop band's debut album
The Hextalls Call It A Comeback - Pop, punk, comedy and Canada, you can't go wrong with this
The Radio Faces Party At The Bushwick Hotel - Best of the Ergs, Bent Outta Shape & Momacs
Riverdales Phase 3 - Re-released with new tracks, finally on vinyl for the first time
Tiltwheel Hair Brained Scheme Addicts - One of the best punk alums of all time
Vaginasore Jr. This Here Penninsula - Really fantastic rollicking, folky, almost country punk rock

CD's
Accelerators s/t - Debut album from Holland's most rocking new pop punk band in years
Be My Doppelganger Rock N Roll, Genius! - Debut album from this up and coming powerhouse
Gordon Gano's Army s/t - One of the UK's best indie pop band's debut album
Tiltwheel Hair Brained Scheme Addicts - One of the best punk albums of all time
Vaginasore Jr. This Here Penninsula - Really fantastic rollicking, folky,almost country punk rock
Vena Cava Weapons Of Mass Communication - Hard rocking pop punk done right

We've also got a new army style It's Alive T-Shirt in the merch section. Made especially for all those Johnny Ramone types out there, get some!

Four new releases coming in the next couple of months, stay tuned!




02/17/09 - The New News
Hey folks, here's a little update about what's what with a couple bands and the website these days...

The Dopamines are have a nice two page interview in the latest issue of AMP Magazine. Sure, AMP has its fair share of pretty horrible mainstream crap within its pages, but there's also some pretty cool stuff in just about every issue. The main folks behind the operation (Brett and Lisa) actually have good taste in music. I think they just fill the pages with what they have to in order to sell copies to the kids at Hot Topic to keep the zine in business. The Dopamines interview turned out pretty good and the layout looks great. There's also an interview with our favorite Sicilians The Popsters in the issue! If you haven't picked up their new album Our Bites Bring You Back, get on it! We have copies in our distro. Pick the zine up at Interpunk if you're into it - it's the Dec/Jan issue with Bayside on the cover.

Jon Lewis of The Dopamines and Grath Madden of The Steinways both got interviewed recently for episodes of the Rocket To Russia radio show. It's probably my favorite online radio show going. New episodes air every Wednesday and can be downloaded soon after on their website. Check it out, it's good stuff!

There have been a couple of changes to the store page. First, we added a section above the distro wherein we're selling some test pressing copies of It's Alive releases. They're all really limited and we're not asking too much. Pick one up and we'll love you forever. Second, the prices for shipping have been changed. The United States Postal Service continually raises rates and we've got to keep up to keep afloat. The upside is whereas things got a bit pricier for international orders, they also got easier - all shipping is calculated automatically upon checkout.

The Copyrights We Didn't Come Here To Die picture discs are currently featured on the front page over at Interpunk. The fine folks over there are running a pretty sweet contest that you should check out if you missed your chance at owning a copy of the Chicago Smasher 7". Check out the contest here.

There's always new stuff being added to the distro section of our store page all the time. We recently got some great stuff you should check out:

The Creeps These Walls 7" - the best release yet by these canucks. Maybe the best 7" this year!
The Mugwumps Slit Your Tire 7" & Banana Brain CD/LP - restocks of one of our favorite band!
The Marked Men Ghosts CD/LP - the final album by one of the best bands this decade.
Team Stray Gender Studies CD - one of Ohio's best, their last album, hear what you missed.
V/A Dangerous Intersections vol.1 7" - the first of many great records to come from up-and-coming Traffic Street Records.
Wee Rock Records - damn near their entire discography (Brutally Frank, Fine Lines, Fugue, Honeymoon, Jim-Jims, Future Lovers, Peggy Sues, Itch, Jet Set and more!)




01/26/09 - We Didn't Come Here To Die!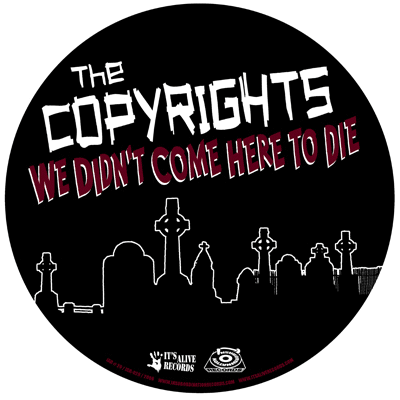 It's done, finally! The Copyrights debut album is now available on vinyl for the first time. Thank you to everyone who participated in the crazy pre-order deal - this would not have been possible without you! For those of you who did not pre-order the complete set of four discs with the bonus Chicago Smasher 7" it's not too late to get a set for yourself. Our buddies over at Vinyl Collective have it up on their pre-order page. If you're not looking to go the way of the completist, individual copies can be purchase right here on our store page. The records turned out fantastic. They look and sound awesome! Check out a shot of them here. You will not be disappointed. You can also pick up a copy in the near future at Interpunk, Vinyl Collective and Insubordination Records. Interpunk will be running a promotional contest for this release as well. There will be some sweet prizes to win for sure.

If you pick up a copy here, be sure to check out the distro section of our store page. We recently picked up a ton of great stuff from all over the world, literally. Here's a quick run down of some of the stuff you'll find in there:

Nearly every in print 7" from Snuffy Smiles in Japan, all current cd releases from SP Records also out of Japan, lots of cd lp and 7" releases from Stardumb Records in The Netherlands, some great vinyl releases from Italy's best bands including Mayo & The Manges, The Peawees and the Kelvins, the new Full of Fancy and Max Levine Ensemble lp albums courtesy of Georgia's finest record label No Breaks Records, a handful of newer releases from Recess Records including both Screeching Weasel re-issue lp's, and ton of other great records.

Thank you to everyone that took advantage of our holiday sale on t-shirts and hoodies! We sold a bunch and that helps alot! Though the sale is over, we decided to keep the regular prices down from what they used to be: hoodies are now $22 instead of $25 and t-shirts are $8 instead of $10. We are going to be offering some t-shirt and hoodie silkscreening services in the near future. If you're in the market for some wares, keep an eye out!